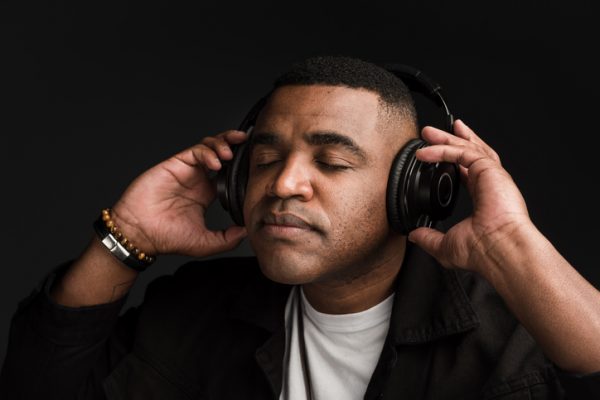 Contributor: Gabriel Soto, Manager of Research, Edison Research
Under the current climate of the COVID-19 pandemic, it's important to disseminate information to various communities effectively. Often overlooked, African-American and Hispanic communities can benefit with a few insights into each group's media consumption.
For advertisers, these insights can help to determine the best media platforms to target and reach these communities. For broadcast radio, these insights can also help stations stay connected with and gain listeners from these communities; especially as many stations consider new ways to adapt amid a perceivable threat to listenership, brought on by the stay-at-home precautions. Edison Research's The Infinite Dial®, a national study that has measured consumer use of digital media and technology since 1998, can tell us how many U.S. Hispanics and African-Americans are reachable via tech, social media, podcasts and of course, AM/FM radio itself. 
Smart Speakers
As the percentage of the U.S. population 12+ that own a smart speaker continues to grow (27% in 2020 up from just seven percent in 2017), so too has Hispanic and African-American ownership of the device. By utilizing smart speakers, there's potential to reach one-quarter of Hispanics, and one-fifth of African-Americans. For broadcast radio, it's important to consider that smart speaker ownership has grown in recent years, and ownership of a traditional radio at home among the population has decreased to 68%, from 96% in 2008.
Social media
For a long time, social media has been used creatively by radio stations as a means to reach listeners beyond its traditional airwaves. Certainly, its complimentary usage remains effective with four-fifths of the U.S. population, 84% of African-Americans, and over three-quarters of Hispanics currently using any form of social media. Comparing the various social networks, Facebook's reach leads all platforms for both African-Americans (64%) and Hispanics (55%), as it does for the general population at 63%. Secondly, increasing its reach in recent years, Instagram finds itself 22 points shy of Facebook's reach among all consumers. It's especially important to strategize Instagram for Black and Hispanic communities, considering its distance from Facebook in terms of reach among these groups, which is a narrow 11 points and 3 points, respectively. In fact, Instagram joins Facebook with the capacity to reach the majority of African-Americans and Hispanics; the same cannot be said for the total population. On a different note, the stark difference between Blacks and Hispanics remains WhatsApp usage. Forty-two percent of Hispanics say they use it, but only 23% of African-Americans say they do. Finally, the recent phenomenon that is TikTok has already made an impression – just under two-thirds of Hispanics and 62% of Blacks are aware of it. However, its usage has a modest start: only 8% of African-Americans are using it, but it's worth mentioning that we've observed higher TikTok usage among younger groups in The Infinite Dial®. Therefore, it's no surprise that we see higher use among Hispanics — a group characterized by its youth – 17% report ever using the platform. It will be interesting to see how radio stations utilize these media – both old and new, to connect with current and potential listeners during these turbulent times.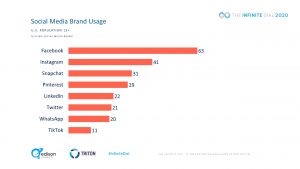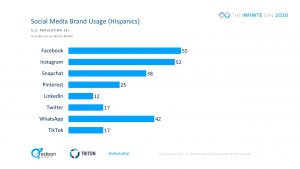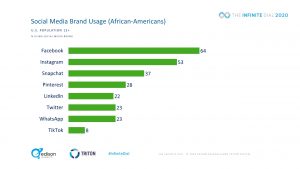 Podcasts
Many radio stations have begun investing in podcast companies as a way to expand their audience, and it is for good reason. The booming platform continues to grow, surpassing the 100-million mark of monthly listeners this year, estimated at 104 million. For reference, that is more than the population of Colombia and Argentina – combined, and accounts for 37% of the U.S. population 12+. Where do African-Americans and Hispanics stand? One-third of African-Americans are monthly podcast listeners, and the percentage is less among Hispanics, at just under one-quarter. It's not surprising, considering that only half of the Hispanic community is familiar with the term "podcasting," compared to about three-quarters of African-Americans and the entire population who say they are. Edison Research hopes to address the underserved Hispanic-podcast market in a study currently in development, one that will center on Hispanics and podcast listening.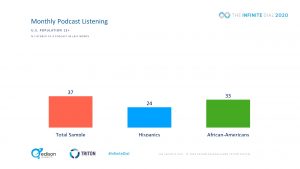 AM/FM Radio
It appears broadcast radio is, well, broadcast radio's biggest strength. We know from our quarterly Share of Ear® study that both African-Americans and Hispanic over-index on average daily audio listening. We also know broadcast radio leads in share of TSL and reach versus any other audio source, such as streaming audio, owned music and podcasts. Indeed, the Infinite Dial®, in the setting of a car, shows us why radio is king. Eighty-two percent of African-Americans currently ever use broadcast radio in the car – comparable to 81% of the general population that say the same. Radio's reach in the car is less among Hispanics, but remains strong, at 74%. For all groups – radio's reach is number one, and the same is true among audio sources used most often in the car. Forty-five percent of Hispanics and 42% of African-Americans say that AM/FM radio is their go-to. With strong positioning heading into the pandemic, it's easy to see radio being a key in communication to Blacks and Hispanics, as some states continue to navigate the pandemic restrictions and others begin to navigate out.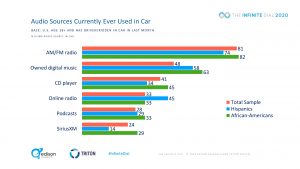 Hispanics and African-Americans can be reached through various types of media. Radio itself has strong reach, and it can utilize other media to maintain its influence and connection with this multicultural audience. Stay-at-home restrictions will force some to get creative to retain listeners, and although the pandemic presents potential threats to ratings, it also presents an opportunity for radio to adapt, by building on its reach and incorporating these other media.
For more information on African-American and Hispanic digital media and technology consumption, go into the Why Radio section of RAB.com available here.