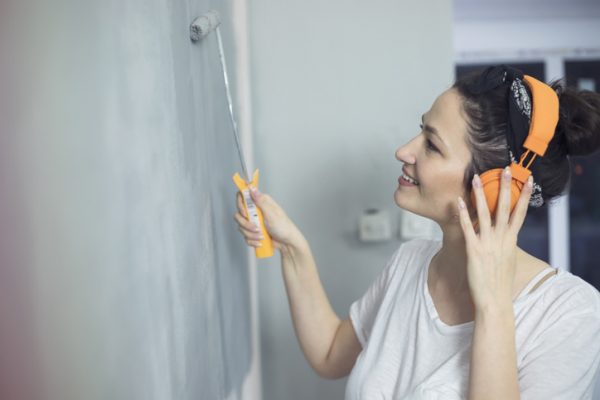 Author: Annette Malave, SVP/Insights, RAB
If you are reading this, chances are either you, or someone you know, learned a new skill or used a new tool in 2020. According to a CRAFTSMAN Built@Home Survey, 78% of adults sharpened their home improvement skills. They also learned how to use various power tools, like drills, sanders and even table saws. Meet the new DIYer.
Results from the survey also suggest that the new DIYer is here to stay, as this trend is likely to continue through 2021 with home improvement projects shifting from must-dos to more advanced projects. To-do lists for 2021 include installing an outdoor patio, deck or entertainment space, flooring installation, bathroom remodels and kitchen renovations.
As a reach medium, radio reaches 90% of adults 18+ who have done any home improvement in the past year, according to MRI-Simmons. Specifically, of those adults who did some home improvement, 74% are radio listeners. Of those that hired an outsider contractor, 71% are radio listeners. So, if an advertiser is trying to reach either the DIYer or hire someone to do it, broadcast radio hits the mark.
Radio also drives web and foot traffic for home improvement retailers and services. Analyzing NumericOwl data of over 143,000 radio ads, radio increased web traffic activity by 9%. Also, for every radio ad aired, it generated 2.4 new visits, for a total of over 8.2 million visits.
Contrary to what one would have surmised, web activity was highest on Tuesdays, followed by Wednesday – perhaps in preparation for the work and shopping that would be done on the weekends. This suggests that advertisers in the home improvement category (hardware stores/home repair) might want to consider heavy-up early in the week.
Timing matters. Spots that ran during midday (10 a.m. – 3 p.m.) generated the highest new visitors per airing, followed by afternoon (3 p.m. – 7 p.m.) and then morning. Additionally, advertisers should consider evening (7 p.m. -12 a.m.), as well as overnight (12 a.m. – 6 a.m.) – two dayparts often overlooked.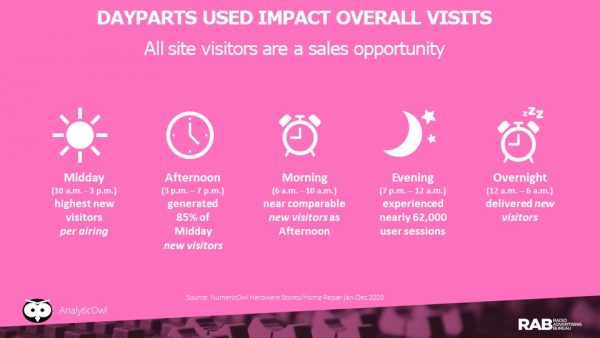 Based on this same analysis, radio also drove physical traffic to brick-and-mortar locations – a 44% increase. On days when radio ads were on air, locations experienced an increase of five new visits – on average. Similar to web activity, the highest foot traffic was Tuesday, but the highest percent of new traffic (versus total) was Sunday, closely followed by Saturday.
According to numerous studies and publications, the trend of consumers to DIY it all seems to be here to stay – for a while longer at least. Retailers in this category should consider radio ad campaigns to help build and support their businesses if they want to hit the nail on the head.
To view the entire analysis, click here.