Contributor: Rick Kestenbaum, General Manager, AnalyticOwl
Healthcare is always a top-of-mind concern for consumers, and radio has proven to be an effective way to reach and motivate consumers. According to Scarborough's USA+ 2022 Release, 85% of chiropractic patients are radio listeners, 85% of optometry patients tune in weekly, and 84% of dental patients are weekly radio listeners.
An AnalyticOwl Industry Insights report for the Healthcare category, based on response measured between September 1, 2021, and August 31, 2022, reveals a number of opportunities that advertisers can use to better understand the impact of radio on website traffic. It also helps them understand where and how to optimize to even better response.
One key finding is that during this date range, 78% of website visits occurring immediately after commercials aired came from search engines (Google, Bing, Yahoo, etc.), while only 21% of website visits came from users who entered a specific website address. Why is this important? In Google Analytics, the "Referring Source" metric identifies the last website visited. That can give the impression that all of that traffic should be attributed to search engines, when in reality, many visits are from people who had just heard a commercial and then used a search engine to get to the site. Understanding that people will overwhelmingly behave this way no matter what call to action is used is key to understanding the full impact of radio. Hard-to-remember website, addresses, dedicated phone numbers and response codes all attempt to create a narrow response path that most people simply won't follow.
The best days for website response were midweek days, Tuesday, followed by Wednesday and Thursday. Messaging into and out of the weekend certainly plants the seed, and the spots airing midweek drive the spike in response. The best daypart overall was Afternoon, 3 p.m. to 7 p.m., but Midday was close behind. Morning Drive airings often drive this "halo effect" later in the day, and Evenings and Overnights often prove to deliver good value given lower rates. And :30 was the best performing ad duration, driving 2% lift in web traffic. This is an important consideration for those using :60s.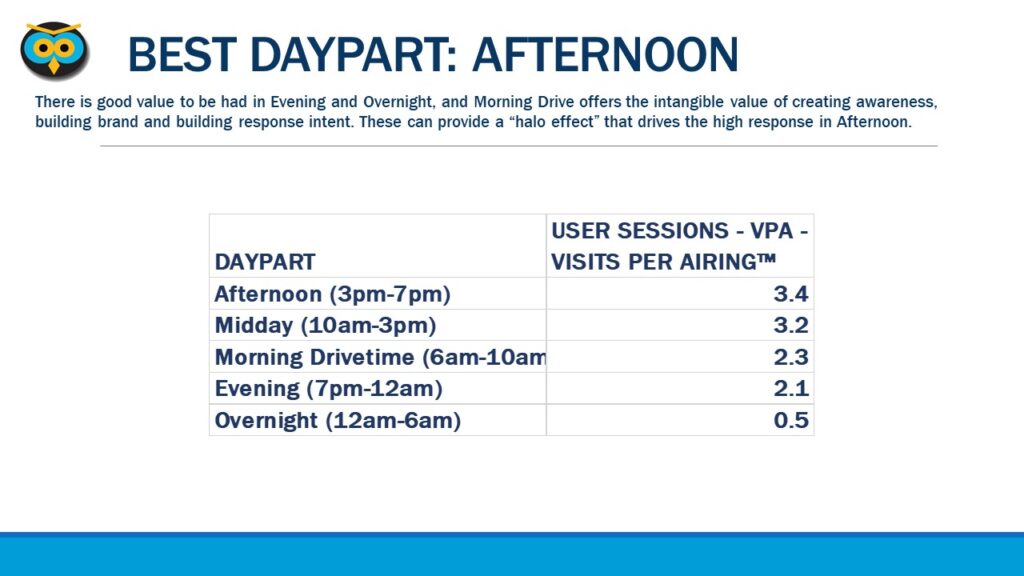 Radio visitors also drove quality visits. Session durations averaged 2 minutes, 26 seconds with an average of two pages viewed, indicating serious interest and response. Bounce rates were on the lower side, 37%, indicating that fewer people just visit a single page before leaving the site. And 64% of site visitors used a mobile device, a great reminder that radio audiences can easily respond anywhere and everywhere.
Advertisers who follow these insights will find much "healthier" outcomes.