Authors: Annette Malave, SVP/Insights and Victor Texcucano, Content Coordinator, RAB
There is nothing better than a cold beer at the end of a long workday, or a few alcoholic seltzers in the backyard while grilling with family or friends – though the world of alcohol is steadily changing.
As 2023 gets going, it is important to understand the trends around alcohol, while also recognizing that radio reaches those who consume alcohol regularly. However, the same is also true for those who are reexamining their relationship with booze. Radio reaches 88% of U.S. consumers 21+ who have enjoyed any alcoholic beverage in the last six months, according to MRI-Simmons.
While alcoholic beverages remain popular in the U.S., the last few years have paved the way for low- or no-ABV (alcohol by volume) beverages, as consumers focus on health and wellness. The "sober-curious" movement is especially led by millennials and Gen Z, who began cutting back on their alcohol intake during the COVID-19 pandemic.

However, as consumers continue to keep experimenting with the sober-curious movement, countless others are still enjoying what we think of as traditional alcohol.
Ready-to-drink (RTDs) cocktails, canned (alcoholic) wine, as well as alcoholic low-sugar seltzers and wine coolers, are popular options for those who want to partake in traditional alcohol.
A trend that also began during COVID-19 lockdowns was purchasing alcohol online. As ISWR drinks market analysis predicts, alcohol e-commerce sales are expected to grow 34% between 2021 and 2026. Despite this growth, radio listeners prefer the in-store experience as noted before.
Based on a recently released report by Provoke Insights, a full-service market research firm, radio listeners are more likely to make their liquor purchases in-store than nonlisteners (87% compared to 74%). They are also more apt to purchase from small businesses. On a seven-point scale, 27% of radio listeners prefer small and local retailers, which is significantly different from nonlisteners (23%). This is an excellent opportunity for local businesses of all types and especially among alcohol retailers and distributors.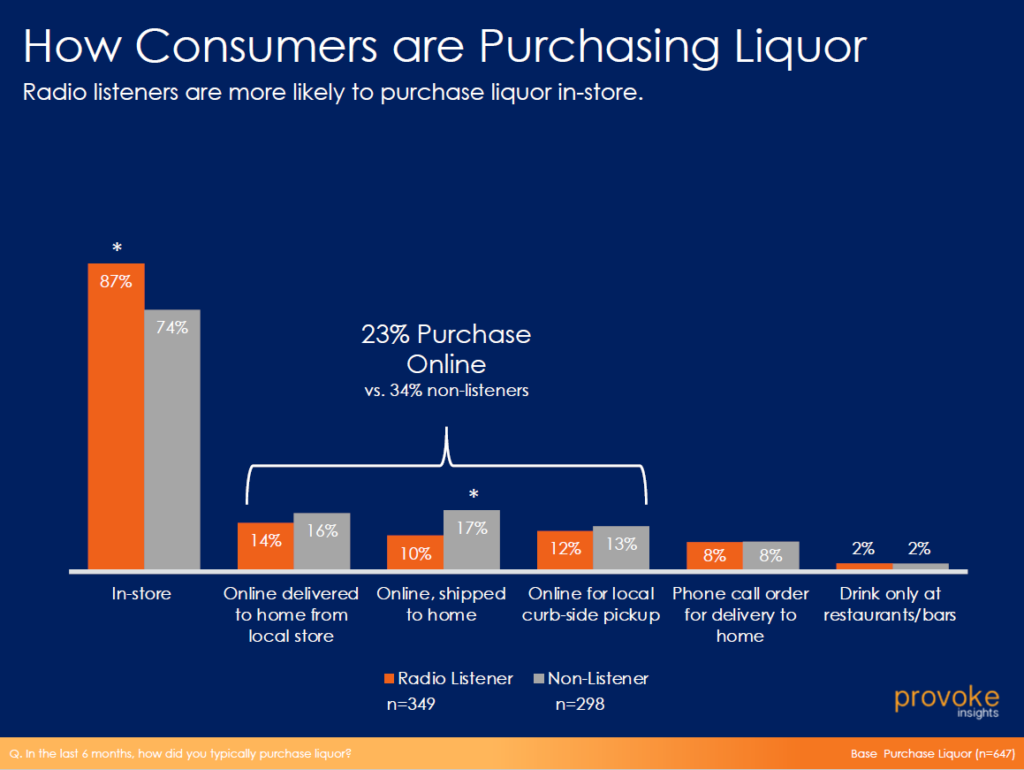 In the next three months, 41% of adults 21-65 years of age plan to purchase alcohol. But 48% of radio listeners plan to purchase alcohol compared to nonlisteners. They are also more inclined to purchase various kinds of alcohol – beer, wine, light and dark liquors and even hard seltzers.
What impacts their purchase decision? Radio listeners are less concerned about price than nonlisteners but, like other categories, in-store availability and selection will have a greater influence than their nonlistening cohorts. Businesses targeting these consumers could potentially increase not only their in-store traffic but also their sales by mentioning the wide variety and availability of their products in their stores.
As consumers plan celebrations or just shop for their pre-dinner cocktail ingredients, broadcast radio is the last medium to reach them. A Provoke Insights survey discovered that when it comes to broadcast radio, listening in car still is tops (83%). Radio can influence and inform consumers of not only new products but also of product availability – a benefit for retailers trying to reach potential shoppers on the go.
Although the alcohol industry keeps on changing to meet the tastes and preferences of consumers, radio's ability to influence and drive sales remain constant.
RAB members can access the Provoke Insights report here.