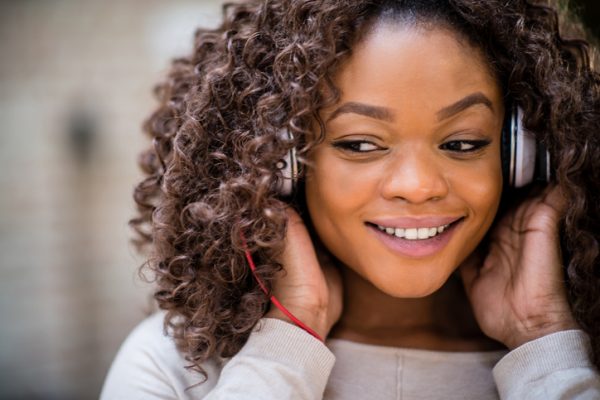 Author: Annette Malave, SVP/Insights, RAB
Over 247 million.  That's a great number.  It's the number of people that listen to radio every week.  It is the top reach medium – touching more people every week than any other medium or device.  This is something that we in the radio industry know.
Being recognized outside of your peer group or industry is even better.  Why?  Simply because it is confirmation from an objective source.  That is exactly what happened to radio.
Pew Research Center is a nonpartisan fact tank that informs the public about issues, attitudes and trends across a wide array of topics and industries.  Recently, Pew Research released 5 facts about the state of the news media in 2017. Within these facts, they revealed audience trends across the news media sector.  The only medium noted as not-experiencing declines, or better positioned as having a consistent audience reach was radio – "around 90% for at least the past nine years."  Each other medium noted within the release – newspapers, cable TV, network TV, local TV and digital-native news – had declines ranging from 5% to as high as 15%.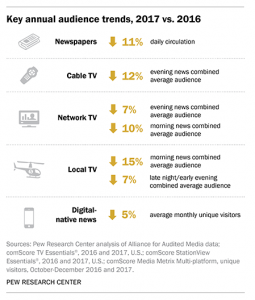 Pew Research Center's 5 facts, mean a lot to radio, so in keeping in Pew Research Center's 5 facts format, here are top 5 facts (along with supporting data) about radio:
Radio's listening audience is growing.

June 2014: radio reached 244 million people weekly1
June 2018: radio reaches over 247 million weekly 1

Radio reaches consumers on the go – wherever or whenever they want it – live or via streams, apps, podcasts and across devices like smartphones, tablets, laptops, computers, smart TVs or smart speakers.

With online radio listening growing to 180 million monthly2
Podcast listening growth to 124 million people2
26% of smart speaker owners use it to listen to a music formatted AM/FM radio station3
16% of smart speaker owners use it to listen to a news/talk formatted AM/FM radio station3

Radio has an emotional connection unlike any other medium.

87% say that broadcast radio personalities make them laugh4
64% would follow their radio personality if they went to another radio station4
61% stated that the personalities on radio stations make them think4
59% believe their daily routine would be different4
51% see radio stations personalities or DJs like a friend/family4
46% trust radio station personalities – they are opinion leaders4

Radio is local.

84% of listeners believe that radio's primary advantage is its local feel. 3

Radio delivers results.

Radio delivers a $10 to $1 ROI5
Radio delivers a 29% lift in incremental Google search6
Radio delivers campaign awareness lift when combined with other media7
Sources: 1 Nielsen, RADAR 124 and 137, June 2014 and 2018, M-Su 24-hr. weekly cume P12+; 2 The Infinite Dial 2018, Edison Research/Triton Digital;  3 Jacobs Media, Techsurvey 2018; 4 Vision Critical/MARU, November 2017; 5 Nielsen Catalina 2014-2016; 6 RAB: Radio Drives Search, 2017, Sequent Partners, Media Monitors, Inf4mation Insights; 7 New Research/IAB, 2016.