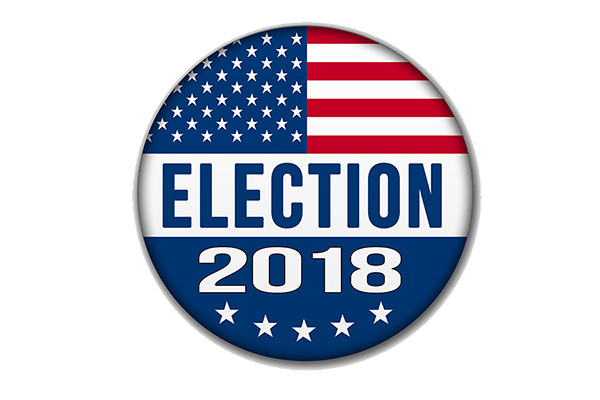 Contributor: Leo Kivijarv, Ph.D., Executive Vice President & Director of Research of PQ Media
Similar to 2016, the use of past trends to predict the outcome of an election that have been applicable for decades are now void. Thus, "it's about the economy, stupid," coined by Democratic strategist James Carville during the 1992 Bush-Clinton presidential election, should have been important in the 2018 election – it is not. Although the economy strengthened during the summer, which normally is an indication that the incumbent party will maintain control, the Republican Party continued its downward spiral during that period. It was not uncommon over the past three months to look at polls, and subsequent political forecasting websites each week, and find a House, Senate and/or gubernatorial seat considered safe in July had shifted to being likely, leaning or tilting Republican, which meant that the lead over the Democratic candidate had shrunk substantially. Furthermore, too many Republican seats that were likely, leaning or titling Republican in July have become toss-ups, while other Republican seats that were toss-ups in July shifted to likely, leaning or tilting Democratic. For example, one political forecaster switched 11 Republican safe seats in July to likely, leaning or tilting Republican in September. Another forecaster expanded the number of toss-ups from 24 to 30 seats during that period, with the Republicans bearing all the bad news. It should be noted that it wasn't six new Republican seats that became toss-ups – it was more – as numerous toss-ups in July are likely, leaning, and tilting Democratic in September. Meanwhile, the Democratic party gleefully watched some of the Democratic toss-up seats become likely, leaning or tilting Democratic, as well as likely, leaning or titling Democratic seats in July that are now safe seats in September.
Let's talk about the elephant in the room once more – control of Congress. Have the odds changed dramatically during the last three months that will allow the Democrats to regain the majority in both the Senate and House? Has the addition of new candidates, once thought safe, resulted in candidates and SuperPacs raising more money? If the answer is yes to the previous question, are there certain media platforms that will benefit from the rise in political media buying?
Senate
In July, we wrote that we didn't expect a major increase in political media buying in the Senate races, regardless that the Republicans hold a razor-thin 51-49 majority (Note: Independents included with Democratic Party based on voting record.). There are 35 seats being contested, but only nine have an incumbent Republican candidate. In July, six were considered safe or likely to remain in Republican control. There has been only one change – Texas is now considered "leaning," which means the candidate has lost approximately 3-5% points in the polls but is still expected to win. There were three Republican toss-up elections in July, which hasn't changed (see below). Of the three races, some believe the Arizona race has become more crucial for control of the Senate after the death of John McCain, because his replacement is more conservative. Will this lead voters to choose someone with opposite views in the Democratic candidate? On the Democratic side, they remain tense because there was no change to the five states in which a Democratic seat is a toss-up. Therefore, the Democratic Party needs to hope the "blue wave" is strong because it can only take control of the Senate if it retains all five Democratic seats, as well as win two of the three Republican seats. If the Democrats win only one Republican seat, Vice President Pence will cast the deciding vote on any deadlocked issues, providing the Republicans with a little breathing room. As to media buying, PQ Media didn't substantially change our July estimates, raising it a few million dollars to account for the new twist in the Arizona race, as well as select media buying spikes after there is a controversial issue with the current administration, such as the new allegations against the current Supreme Court candidate Brett Kavanaugh, led some SuperPacs in both parties to run more commercials than originally expected when it looked like the nomination would go through relatively smoothly. We also pointed out in July that within the eight contested states, only 13 DMAs are within the top 50 markets, including five in Florida. Phoenix ranked the highest at 12th, thereby leading most political media buying to markets with lower CPMs than seen in past elections.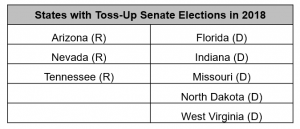 House
To recap the dramatic change in the House elections, PQ Media determined in January that it was mathematically impossible for the Democrats to take control of the House – not enough toss-ups (24 seats needed to be flipped and there were only 16 toss-ups or Republican seats were leaning Democratic). By July, PQ Media believed that control of the House could change, as there were 31 Republican seats that were toss-ups or tilting Democratic, but the blue wave had to be extremely successful. That is, the Democrats had to hope for massive discontent among voters, as there was little margin for error. They could only lose in five of those races, as well as retain the two Democratic seats that were considered toss-ups. In September, the math has gotten easier for the Democrats with 40 Republican seats that are toss-ups or leaning Democratic (as well as the two Democratic toss-ups). Most, but not all, political predictors believe the Democrats will wrest control away from the Republicans, with the caveat that their models proved extremely inaccurate during the 2016 presidential election, so they are being more cautious in their predictions. As a result of the increase in contentious House seats, PQ Media has increased our media buying estimate by over $100 million. Like the Senate races, a majority of the contested House races will be in smaller DMAs. For example, the 19th congressional district of New York is in the Hudson Valley and Catskills region that is served by 59th ranked Albany.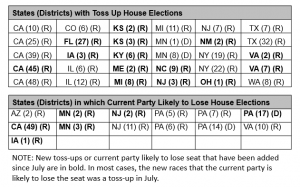 Governors, Ballot Initiatives, Local Races
As we stated in July, PQ Media believes there will be a slight increase in spending on gubernatorial races when compared with the 2014 election. We used the 2014 comparison versus 2016 because the number of campaigns rises in non-presidential election cycles — 36 in 2018 versus only 14 in 2016. The news for Republicans hasn't been good. In January, there were only three toss-ups, all Republican seats: Florida, Michigan and Nevada. By July, there were 10 toss-up seats, with four new Republican seats (Illinois, Iowa, Maine, Ohio), two Democratic seats (Connecticut, Minnesota), and one independent seat (Alaska), usually linked more to the Democratic than Republicans based on voting record and policies implemented. In September there are still nine toss-up elections, but the list has changed, as some toss-ups are not leaning towards another party, new toss-ups have emerged, and one Democratic race (Minnesota) is no longer a toss-up and leaning Democratic. Specific to media buying, PQ Media added approximately $50 million to the estimate. Although gubernatorial races differ from the federal races in that there are a high number of large DMAs in the mix, including Chicago, Miami, and Detroit, a significant share of the media buying will be committed to medium to small DMAs where the loyal voters are located, like the upper peninsula of Michigan.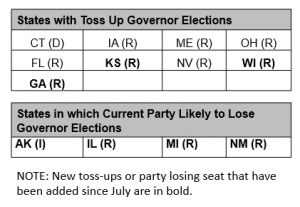 As to ballot measures, PQ Media expects significant funds to come from outside the states voting on controversial ballot referendums, such as abortion in Alabama, casino gambling in Florida, and marijuana in Oklahoma. In July, there were only 110 approved ballot measures. Since then an additional 56 have been added to reach 166 approved initiatives, slightly higher than 162 voted upon during the 2016 campaign. It should be noted that 12 of the 166 ballot measures were decided in pre-November elections, leaving 154 on the ballots. PQ Media took into account that more ballot initiatives would be added during the July-September time period and didn't significantly change our estimates. Finally, PQ Media stated in July that some pundits believe that additional funds will be allocated to select local races if there is the possibility that control of a state legislature could change, which we believe to still be true in September.
 Political Media Buying Strategies
Please see the July blog in which PQ Media went into detail about whether digital media will exhibit a significant increase in share of overall political media buying, in which we cited two case studies with opposing views. That said, we concluded that campaigns shouldn't rely too heavily on digital media to reach core voters, particularly those that Trump reached in 2016 to win key states, as many of these voters are located in rural areas that lag in broadband and smartphone penetration rates. Thus, traditional media, like radio, are solid options in trying to reach target audiences.
Given the current status of the elections described in this blog posting, will radio be one of the select media to benefit from the increase in contentious races? As a reminder, PQ Media was already bullish about radio in July, stating that there are many positive attributes during the 2018 election, foremost that many of the contested races are in smaller DMAs in which radio is a dominant medium as there isn't a strong local digital presence. We also stated that radio's share historically rises in non-presidential election cycles due to the higher number of gubernatorial races than during the presidential elections.
One item that we didn't discuss in July is the availability of advertising and marketing inventory. That is, when there are multiple contentious elections in one state, particularly among the three categories (Senate, House, Governor), ad inventory becomes scarce on the most popular medium – broadcast television. Therefore, in the three weeks leading up to the election, in which more money is spent than during any other three-week period during the election process, candidates are scrambling to find an alternative if broadcast television is sold out, such as local cable avails and radio. The volume of contested races is almost unprecedented, with 151 races that are not considered safe seats, of which 108 are House races. In comparison, there were only 25 contentious House races during the 2016 elections. Eight states have contested elections covering the House, Senate and Governor: Arizona, Florida, Michigan, Minnesota, Nevada, Ohio, Pennsylvania and Wisconsin. These are the states PQ Media believes are most likely to have ad inventory issues, particularly if the House candidate(s) is near a large DMA. In four states there are more than 10 contested races: California, Florida, Pennsylvania and Texas, but the inventory issue won't be as pronounced unless one or more House races are in a large DMA. This year's election is unique in that there are the same number of states with no contentious races as there are with all three categories referenced earlier (Alabama, Delaware, Hawaii, Idaho, Louisiana, Massachusetts, Vermont, Wyoming). These states will have little or no inventory issues.
Will radio be one of the select media to benefit from the additional media buying and TV ad inventory shortage? YES 
Based on the new data, PQ Media is revising its July estimates as follows for September:
In July we estimated that overall media buying would reach $6.575 billion in 2018 (9.2% decline from 2016 and 9.8% increase compared with 2014).

In September, we've increased our estimate to $6.755 billion, representing a 6.7% decline from 2016, but up 12.7% compared with 2014.

There is no change to our opinion that broadcast television will account for slightly less than half of the spending (see chart below), with direct mail the only other platform to exceed $1 billion.
Also, mobile will register the fastest growth compared with 2014, rising over 220% (originally 210%), while cable TV, internet, experiential marketing, PR, market research, and promotional products will post double-digit gains.
In July, we estimated that radio will exceed $470 million in 2018, a 15.2% gain over 2016 and 9.5% increase over 2014, which represented a 7.2% share of overall media buying, up from 5.6% in 2016, and equal to 2014 share.

PQ Media expanded radio media buying to almost $500 million in 2018, a 21.8% gain over 2016, and 15.8% increase over 2014, which now represents a 7.4% share of overall media buying (see chart below).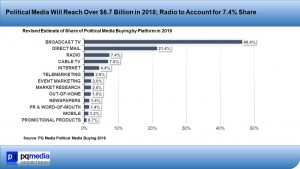 The RAB has the following resources:
2018 Political Calendar
Radio Gets Out the Vote presentation.
Click here for an MRI run that lists Political insights by Format. (includes one sheet on how to read)

(i.e., an AAA format can say: People who listen to AAA formats are 35% more likely than the general population to have a Democratic Political Affiliation in the last 6 months.)