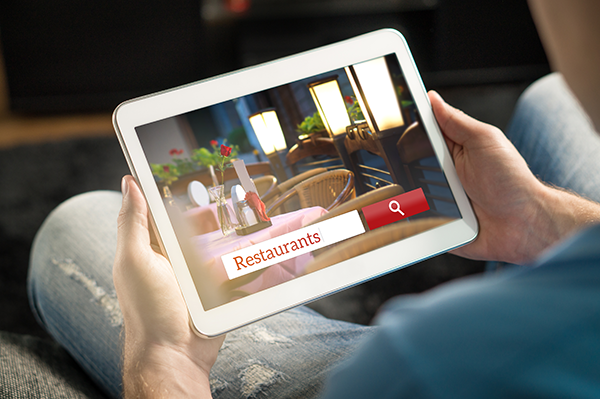 Author: Annette Malave, SVP/Insights, RAB
Food is fabulous!  And it's even better when someone else prepares it and serves it to you – whether it is in a casual dining establishment, white tablecloth restaurant or even in a to-go bag.
The restaurant industry has undergone vast changes to meet the expectations of consumers.  They seek out unique foods and concepts that are authentic – in both flavor and experience.  They also expect healthy options that will delight the inner foodie in them.
Studies have shown that words and sounds (especially those related to food) can bring imagery to mind – one of radio's many strengths.  And when you use any of these words or similar tactics within a radio commercial, radio drives restaurant search.
In an analysis of NumericOwl data (powered by AnalyticOwl), radio drove a 3% lift in restaurant search activity as well as a 3% average in new user lift. Based upon activity for this cross-section of restaurant category radio advertising over a 10-month period in 2018, radio drove nearly 45,000 sessions with almost 30,000 from new users.
Search activity varied by day of the week, but the greatest search by new users ran closer to the end of the week, Thursday through Saturday.  Saturday drove the highest level of search by new users while Monday experienced the lowest.  Sunday drove the second lowest activity but still generated 47% of Friday's level.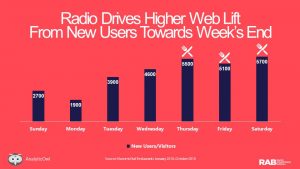 While new users drove highest search lift on Saturday, Thursday had the greatest number of sessions per ad followed by Saturday.
Restaurant-goers of any kind seem to always be searching for places to get their next meal, predominantly during the work day.  New users search more during the Afternoon (or PM drive), followed by Midday.  Morning drove the third highest number of new site visits.
This analysis proves that radio can be attributed as a driver of restaurant search.  Radio reaches 89% of general market diners of quick service and sit-down/casual restaurants, and 90% of upscale restaurant patrons.  Prior studies have shown that radio can drive traffic to restaurant locations.
When trying to connect with foodies or restaurant-seeking consumers, radio ads should:
Reference food and flavor
Tout positive experiences
Communicate convenience and location
And of course, include the website
You can find a full presentation for download here.