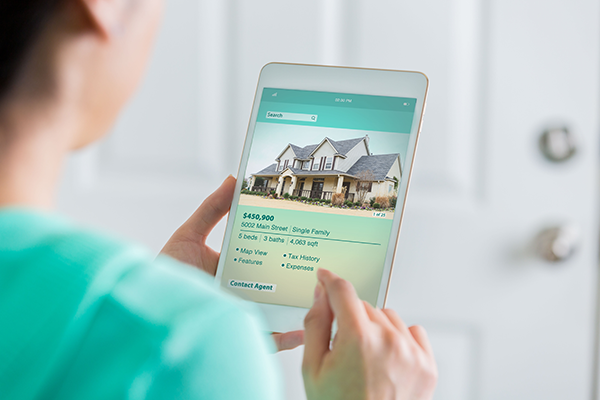 Author: Annette Malave, SVP/Insights, RAB
There are many important events in life – graduating, accepting a job, getting engaged or married and, of course, buying a home.  Important? Maybe. Stressful?  Absolutely!
If you haven't had the experience, I'm certain that you know someone that has purchased, is in the process of doing so, or is currently searching for a home to buy. And no matter how you look at it, it is one of the biggest commitments you can make.  With a commitment like this, you need someone you can trust by your side.  Nope, not a significant other, mother, father or friend. You need a real estate agent and radio is there to help!
According to a Homes.com 2018 survey, 33% of homebuyers admitted to crying at some point during the home-buying process.  Real estate agents can help with both the buying and sales process since they can spot potential problems, handle paperwork and more. Perhaps that's why, according to the National Association of Realtors:
91% of sellers used an agent and 87% of buyers used one
74% of buyers would use them again or recommend an agent
77% of sellers paid for the agent's compensation
So, what should real estate agents do?  Use radio, of course, because radio reaches 92% of adults who plan on purchasing a home this year and 90% of adults who used a real estate agent this past year.  And because of radio's incredible reach, radio can drive real estate agent search.
In an analysis of over 12,000 real estate agent ads throughout the 2018 calendar year, radio drove a 3% increase in new user search.  Based upon data compiled by NumericOwl, 6 out of every 10 people driven to a real estate agent's site by radio were new visitors.
On average, radio campaigns in the real estate agent category delivered 217 new visitors daily.  Most of the online activity occurred on Wednesday and Thursday, perhaps in preparation for the weekend home hunt.  And when it comes to dayparts, evening drove the highest number of new users, followed by afternoon and mid-day.  Using these three dayparts as part of a realtor's radio ad campaign may serve as a strong foundation for campaign success.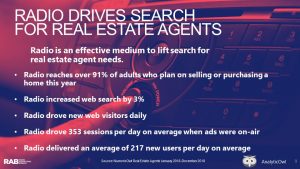 While buying a home isn't an everyday thing, listening to radio is.  And radio listeners are potential home buyers as well as sellers.  Radio matters because it works and radio works for real estate agents on-air, online and search.  (View the slide presentation here.)
If you've bought/sold a home and used a realtor, how did you learn of the realtor?