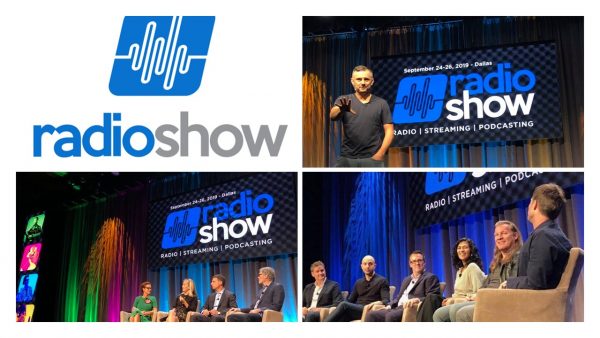 Photo Credit: RAB/NAB Radio Show 2019
Author: Annette Malave, SVP/Insights, RAB
"Radio, Streaming, Podcasting." During the reimagined 2019 Radio Show, session content touched on all aspects of the audio landscape and delivering insights applicable to all media and advertising professionals.
In session after session, the overarching message was simple. The content broadcast stations deliver to listeners is the core differentiator when compared to other audio sources and how that content is delivered should and will be embraced – regardless of platform or device.
Here are some top things we learned (and heard) at Radio Show 2019:
"A story isn't a story until someone listens." – David Fisher, New York Times bestselling author

To grow, you must be willing to adapt and change. "Be bold, innovate and focus on the customer," stated Bill Wilson, CEO, Townsquare Media. 

Radio remains an important component of listeners lives. Podcasting is bringing new advertisers into audio and smart speakers are bringing radio back into the home. "Radio has two-thirds of the audience outside of the home, and this allows us to reclaim that turf back in the home. Technology is allowing us to do a lot of tricks we weren't allowed to do five years ago." – Bob Pittman, Chairman, and CEO, iHeartMedia, Inc.

Podcasts are taking off because listeners enjoy the intimacy of the experience. And ads, particularly live reads, resonate with listeners with the lowest ad skip rates.

Radio has a future with Gen Z – as a medium and as a career. Music is important to this group and listening to it is a top stress reliever. What does Gen Z want from radio? "They crave on-site one-on-one experience." – Zach Sang, Host, Zach Sang Show, Westwood One.  

Data, namely attribution, dispels and addresses myths, helps to shape ad decisions, and provides listener and consumer insights for advertisers and broadcasters alike. It has helped advertisers quantify the unique power of the listener and on-air personality relationship as well as maximize the impact of media dayparts.

"Attention is the new currency." – Gary Vaynerchuk, Chairman, VaynerX, and CEO and Co-founder, VaynerMedia. Everyone craves attention. Those who can do things that capture attention will win. According to Gary Vee, what's super fascinating about radio is that this industry is on the precipice of massive change – potentially uncomfortable change and evolution. 

Listeners tune in to radio for numerous reasons – entertainment, it's funny and relaxing. Radio also offers "huge cultural value."

"The greatest thing about radio is that you keep us relevant." – Charlotte Jones Anderson, EVP and Chief Brand Officer, Dallas Cowboys.