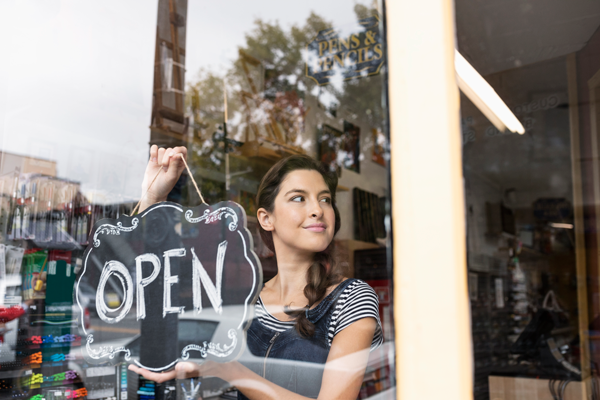 Author: Annette Malave, SVP/Insights, RAB
Small businesses. They are the heartbeat of America and Main Street. Despite the current trend of online shopping, consumers across the country still love to support and shop at small businesses where they live and work. This Saturday, we celebrate small businesses across the country.

According to the Small Business Association, there are well over 30 million small businesses across the country. They are as integral to the local landscape as the schools, public libraries and local radio stations.
Defined as those businesses with fewer than 500 employees, small businesses help to drive economic growth in the communities they serve. Created in 2010 by American Express, Small Business Saturday (nestled between Black Friday and Cyber Monday) became an official event in 2011 and has continued to drive consumer spending each year.
According to the 2018 Small Business Saturday Consumer Insights Survey, 94% of consumers appreciate what small businesses do for the local community and 91% believe that it is more important than ever to shop or patronize local small businesses.
With radio's ability to drive foot and web traffic for advertisers of various sizes and categories, broadcast radio, as the true local medium in any market, is an important medium to reach small business owners.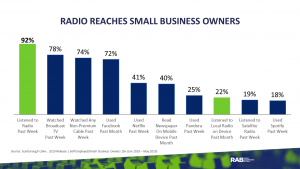 And when it comes to reaching consumers and patrons of these local establishments, radio drives business. According to Scarborough, radio reaches:
• 93% of adults whose household that used tutoring service in the past year
• 92% of adults whose households that used a cash advance or title loan shop in the past year
• 92% of adults who shopped/used any day spa in the past year
• 91% of adults who used any dry cleaner in the past year
• 90% of adults who shopped or used a jewelry store in the past year
• 90% of adults whose household used a local insurance agent in the past year
So, this week, when listening to local radio stations via whatever device is available to you, we're certain that you will hear radio ads promoting sales and driving traffic to local businesses.
Do you have a small business establishment that you frequent? Tell us how you feel about it.