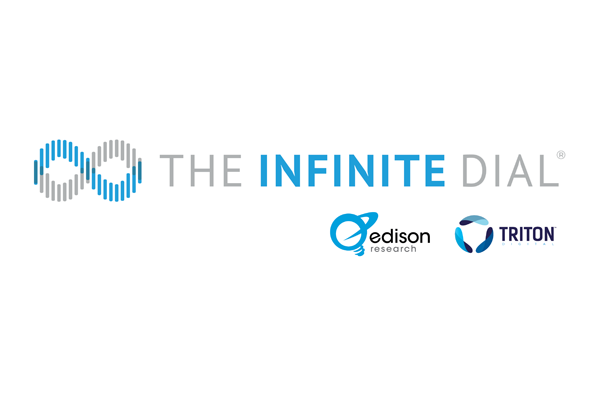 Contributor: Laura Ivey, Director of Research, Edison Research
The most telling image from The Infinite Dial 2020 presentation is a screenshot of our presenters, Edison Research SVP Tom Webster and Triton Digital President of Market Development John Rosso, leading the webcast with over 1,500 attendees from their respective homes. No one could have anticipated that our setup would be driven by social distancing precautions. Now seems like a most appropriate time to talk about the most recent findings on the "infinite dial" of podcasting, digital, audio, radio and social media that connect us all.
The Infinite Dial® 2020 marks the latest annual report in a series dating back 22 years, covering consumer usage of media and technology, while also tracking new media as they develop. Here are the highlights:
Podcasting Reaches 100 Million Monthly Listeners
Last year's Infinite Dial podcasting highlight showed that 51% of all Americans age 12+ had ever listened to a podcast (up to 55% in this year's study). This year's podcasting milestone is that approximately 104 million people in the U.S. have listened to a podcast in the last month, (37% of the 12+ population, up from last year's 32%). Podcasting continues to show strong year-over-year growth. Thirty-nine percent of men and 36% of women are monthly podcast listeners. With massive numbers of podcast choices available, podcasters are stepping up with content directly related to the ongoing COVID-19 crisis.
Online Audio Reaches 192 Million Americans Monthly
Approximately 192 million Americans listen to online audio each month – 68% of the 12+ U.S. population – which is up one percentage point year over year. The gains in reach are seen in those age 35+, with 76% of those age 35-54 listening to online audio monthly (a gain of six percentage points year over year), and 42% of those age 55+ listening to online audio monthly (a gain of two percentage points year over year).
Portable Device Ownership Flat; Radio Receivers in Home Down
Ownership of many portable devices has flattened, as smartphones (owned by 85% of those in the U.S. 12+), tablets (owned by 53%) and  smartwatches  (owned by 17%) exhibited no real increases in ownership in 2020.
Sixty-eight percent of Americans have at least one traditional radio in their home, but that number is on the decline – down from 79% four years ago. Edison Research's Share of Ear® service shows that radio listeners continue to consume the vast majority of radio content via traditional radio receivers (92% of all radio listening) and not online streams (8% of all radio listening).
Households Own Multiple Smart Speakers
The online listening device that continues to grow? Smart speakers. Twenty-seven percent of the 12+ population the U.S. (76 million) own a smart speaker, up from 23% last year. Nearly one-third of smart speaker owners (32%) have three devices in their homes, while 23% have two devices and 45% have one. The average number of the devices in smart speaker households has grown from 1.7 in 2018 to 2.2 in 2020, so we see growth coming from households owning more than one of the devices.  Incidentally, 68% of American homes own a traditional radio receiver, and smart speaker adoption appears to be growing at the same rate in radio and non-radio households.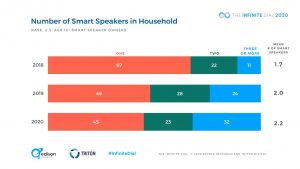 Voice-Operated Assistants 
Between smart speakers, smartphones and other voice tech, it stands to reason that 62% of those in the U.S. age 12+ use some type of voice  assistant. Our comfort levels are increasing, as voice technology has become more available.
Radio is Audio Used Most Often In Car
As noted above, 68% of Americans have a radio in their home, but we know that virtually every automobile is equipped with a radio. Eighty-one percent of those in the U.S. 12+ currently ever use the radio in car, and 50% say that radio is the audio source used most often when they are in their cars. Radio is facing competition in-car, though, and as technologies converge, 45% of the U.S. 12+ population has now listened to online audio in their car through a cell phone. Radio continues to serve on the front lines as a local information source, so it is no surprise that it remains a top choice in car.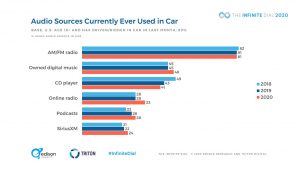 Facebook Usage Decline Levels Out as Instagram Growth Continues
Facebook saw a decline in usage by the 12+ population from 67% in 2017 to 62% in 2018, but that decline has stabilized at 63% in 2020. The growth story among younger demos is Instagram. Among those age 12-34 in the U.S., 68% use Instagram (up from 62% in 2018), 64% use Facebook and 61% use Snapchat. Also among those age 12-34, WhatsApp increased from 23% to 29% year over year, and TikTok debuts at 25%.
As Americans continue to practice social distancing, these technologies will be tested, as we continue to connect in the weeks and months to come.  What's important to remember is that these devices and media outlets don't exist without the humans powering them, so we look forward to seeing the difference we can make through all the outlets on the "infinite dial."
Click here to download The Infinite Dial® 2020. It is also available on RAB.com/WhyRadio here.
The Infinite Dial® 2020 uses the gold standard of nationally representative survey research – a random probability telephone sample, comprised of both mobile phones and landlines – of all Americans ages 12 and older. For the 2020 study, 1,502 telephone surveys were conducted.