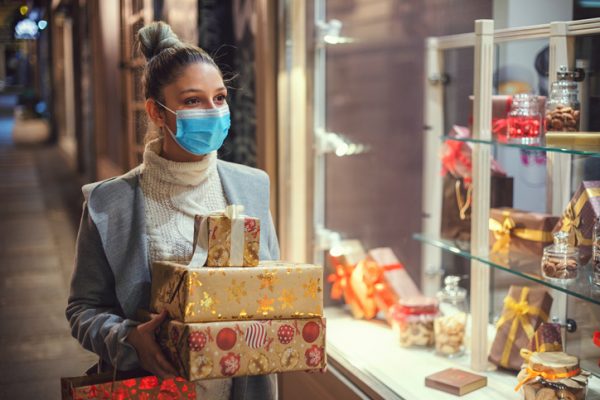 Author: Annette Malave, SVP/Insights, RAB
Without a doubt, 2020 has been a most unusual year, and the need for good tidings and holiday cheer have never been apparent than now. Shopping this season will be a way that consumers will turn their focus from current events and concerns to celebrating the holidays and a hopeful return to the routines that they all miss.
According to the National Retail Federation's Annual 2020 Holiday Survey, this year, consumers will spend $650 in gifts, $230 in nonholiday items, such as decorations, and $117 in other nongift purchases – each nearly flat to 2019 amounts.

Radio listeners are ready. They are ready to shop and spend time with family and friends this holiday season. According to the recently released third edition of Jacobs Media The Impact of COVID-19 on Radio Listeners, 70% plan spending money on clothing, and 66% plan on spending money on gift cards.
When it comes to 2020 holiday spending versus 2019, about 48% of radio listeners plan to spend the same or more. However, when you look at various generations, retailers would be suited to target Boomers and the Greatest Generation. Only 33% of Gen Z and 44% of millennials plan on spending the same or more – significantly less that their cohorts, with 51% of Boomers and 59% of the Greatest planning on spending the same or more than 2019.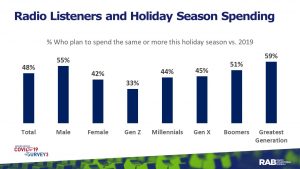 As we have all seen, the role that local businesses play in communities has been magnified during the pandemic. When it comes to holiday shopping, the intent to patronize local business will be even greater this year. Based on this survey, 79% of radio listeners feel that they should support local/small businesses in their area. This sentiment was consistent among all survey respondents of all ages – from Gen Z to the Greatest Generation – local matters.
Gatherings are sure to be different this year as well for everyone. Fifty-nine percent of radio listeners strongly agree/agree that they will be having smaller holiday celebrations/get togethers than usual. The majority also plan on creating a festive environment in their homes – 70%. So, what influences them? Tops on the list are those that they will probably gather with this holiday, as recommendations from friends, family and colleagues influences their purchase decisions "a lot" or "a little." Online user reviews are the second most influences, followed by AM/FM radio ads (65%). Recommendations from a favorite DJ/radio personality also influences their decisions.
2020 holidays are definitely going to be different, but the news is good for retailers. Radio listeners are ready to hear sleigh bells and make registers ring this holiday season.