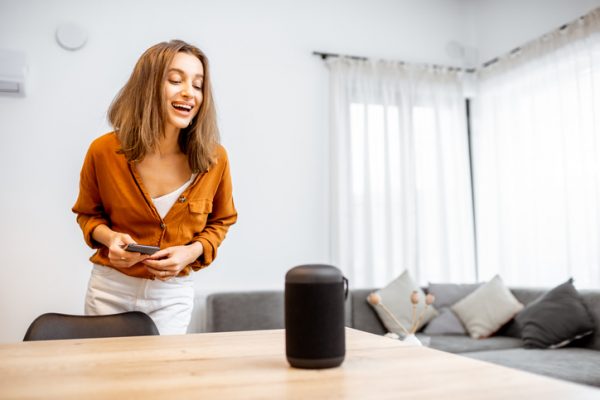 Author: Annette Malave, SVP/Insights, RAB
As holiday shopping goes into full swing, electronics will be one of the top items purchased this year. As many households continue to work from their remote locations, smart speakers are sure to be on many holiday shopping lists. As of this past June, NPD Group stated that nearly 30% of U.S. households were using smart speakers.
In study after study, smart speaker owners have stated that they are using their devices more during the pandemic – seeking out news, information and various content. Results from The Smart Speaker Report (Spring 2020), found that of those whose routine changed and are working from home, they continue to play music (85%), get the weather (71%), get news (54%) and listen to AM/FM radio (42%).
More recently, a market research and strategic advisory organization's blog noted how the smart speaker is "leading to the reinvention of at-home audio" and references both broadcast radio, as well as podcasts. Within the blog post, the suggestion is that "smart speakers are the next frontier for consumer attention." This is similar to something we have heard from Rishad Tobaccowala, senior advisor with Publicis Groupe, as the shift from "the colonization of the eyes to the colonization of the ears."
There continues to be great opportunity for growth in the smart speaker space for advertisers to develop and tap into various ways to engage with smart speaker owners. Smart speakers can provide an additional means for advertisers to expand their brand activity in the way that they have used broadcast radio for brand building and increasing sales. Why? Smart speaker owners are radio listeners – 45% of smart speaker owners listen to AM/FM radio according to The Smart Audio Report (Spring 2020).
Based upon 2020 MRI-Simmons data, adults who have taken the following actions with smart speakers are radio listeners:
83% have listened to live radio
76% have gotten sports updates
74% have purchased/ordered a product or service
73% have gotten news updates
72% have gotten local information, movie times, recipes, etc.
70% have listened to a podcast
While we know that many consumers have returned to the roads to go back to work, there are still people working from home. As smart speaker sales and usage continues to grow, there are opportunities to reach radio listeners.
Alexa, play my favorite radio station!