Author: Annette Malave, SVP/Insights, RAB
Having just come off a long summer holiday weekend, parents of children across the U.S. are prepping for, or have already begun, back-to-school shopping. If you think it is too soon, think again. According to the National Retail Federation (NRF), 61% of consumers typically plan their back-to-school shopping around retail sales events like Fourth of July.
As restrictions are lifting across the country, consumers are excitedly looking forward to get-togethers, eating out and shopping. For parents of school-aged children, there is even greater excitement. Fifty-six percent of shoppers are looking forward to the upcoming school year – more excitement than in previous years. Nearly six in 10 say that  shopping this year for back-to-school (BTS) will be a bigger deal to them and their families based on survey data from Ziff Media Group (ZMG). Why? According to the NRF, 64% of back-to class shoppers expect that their children will be back in the classroom mostly or entirely in person.
Results from the data released by both the NRF and ZMG, pointed to clothing topping the list of items on shopping lists. Parents and students alike, are ready to shop and wear traditional clothing versus the relaxed and athleisure wear many donned during 2020. Second on the list is school supplies – from the traditional pen and paper, to smartphones, tablets and laptops.
When it comes to radio, radio-listening parents (ages 25-54) of school-aged children are just as excited about the return to school. They are, in fact, 14% more likely than the U.S. population at having their child return to school post-COVID-19, according to MRI-Simmons 2021 April COVID-19 study.
With clothing at the top of the shopping list, parents with any children are 64% more likely than the U.S. population to spend over $400 in children's clothing. When it comes to six-11-year-olds or 12-17-year-olds, there are differences in the clothing that's purchased. Parents with children ages 6-11 are 157% more likely to purchase suits or dresses, compared to parents of 12-17-year-olds, who are 79% more likely.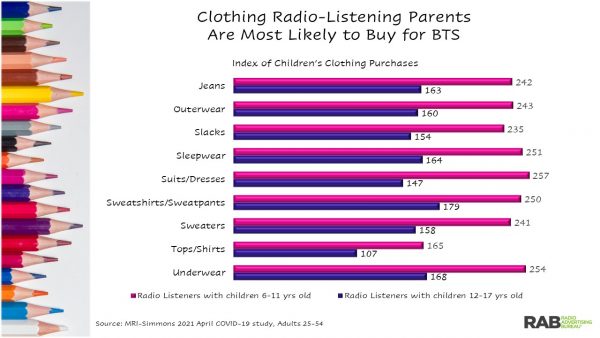 While online shopping spiked during the pandemic, parents appreciate the experience of brick-and-mortar shopping for the BTS season. Survey results from ZMG show that the top reasons for the in-store shopping experience are getting their purchases right away, the tactile experience of seeing/trying on item, convenience, the experience and discounts only available in-store.
Radio reaches 73% of parents with one or more child at home (MRI-Simmons) and, based on the custom study by Nielsen released in March, 50% of adults always have the radio turned on while they are driving to school. While focusing on deals may be good to communicate with consumers, 71% of radio-listening parents of children buy based on quality and not price, according to MRI-Simmons. Retailers that sell the goods that these parents need for the back-to-classroom shopping should highlight the available inventory, selection and quality of clothing in their messaging. Doing so will be sure to get them an A+.