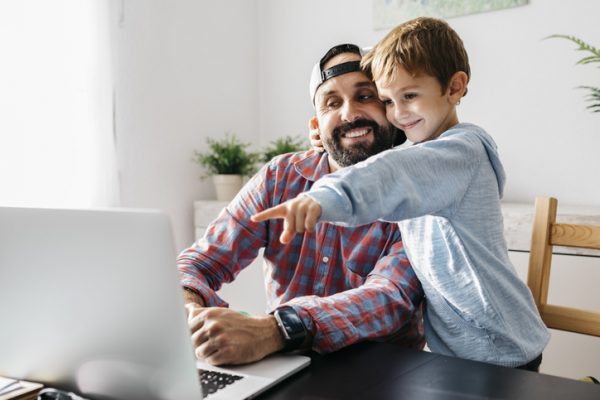 Contributor: Sarena Gerard, Senior Research Associate, GfK
Combining online and in-store shopping is a highly personal, consumer-driven experience that's here to stay — one that predates COVID-19 but that has picked up major momentum over the last 18 months.
For many consumers, pivoting from in-store to online shopping was one survival tactic among many adopted to cope with pandemic lockdowns —and as the omnichannel trend continues to rise, many advertisers are working hard to get in front of consumers in both online and in-store environments. This is especially true in categories that have experienced strong omnichannel growth over the last year – among them clothing & fashion, household cleaning products, and packaged foods and beverages.
Now more than ever, it is crucial for advertisers to refresh tactics—finding what works and what doesn't—as they try to win over American consumers who now opt quite naturally for a hybrid in-store/online shopping strategy.
The chart below from GfK's FutureBuy® 2021 study looks at shopping methods across 16 categories, ranging from tech to personal and household products. Our new data shows that 47% of American Hispanics shopped exclusively in-store over the last year – the highest of any racial or ethnic group. But scores were also remarkably high for Caucasian (41%) and Black/African American (39%) shoppers, as well, considering that in-store buying was highly discouraged for much of the year. On the flip side, almost three-quarters (73%) of Asian consumers opted for an omnichannel or online approach.
Chart I. % of Shoppers reporting shopping "exclusively in-store," "exclusively online" and "both online & offline" across all 16 categories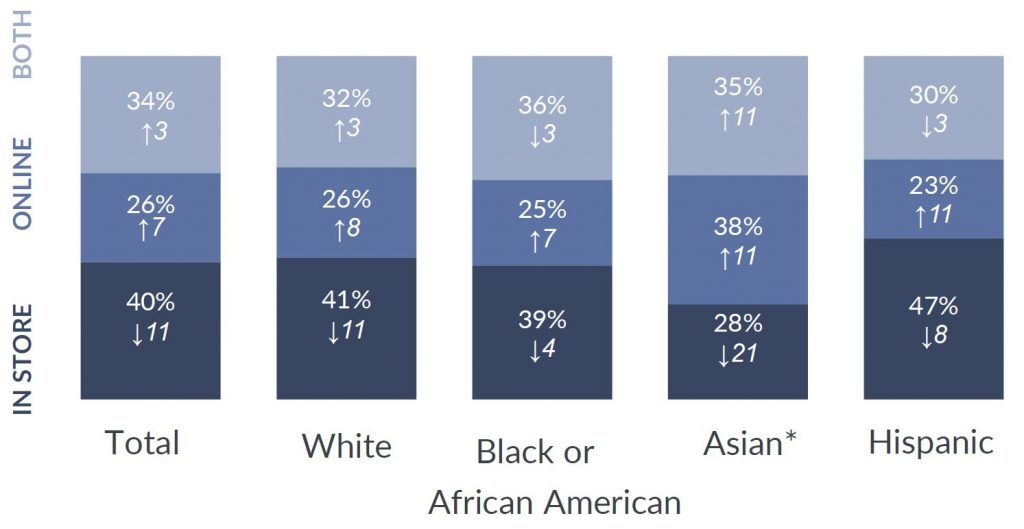 Among those who shopped in-store only, Black/African American consumers were more likely to cite the ability to see and feel products before buying (42%) as a key reason for their preference, while Hispanic in-store shoppers are more likely to say that they like the quickness of brick-and-mortar buying (38%).
On the other hand, Asian consumers found that exclusive online shopping was easier (53%), there was better selection (40%), shopping was faster (31%) and returns were hassle-free (19%). Not surprisingly, in a pandemic year, all these reasons for preferring online buying experienced gains of 7 percentage points or more during 2020.
Among online factors, free delivery was a prominent reason to shop online for all ethnic groups, especially Caucasian (43%) and Black/African American (35%) consumers.
As consumers made decisions about where to shop, their influences surely played a role. According to the chart below sourced from GfK's FutureBuy® 2021 study, traditional media influences like online advertising, were up among all groups—especially Hispanic shoppers. Hispanic consumers also show an uptick in receptiveness for print advertising. Though traditional media influences were least effective with Asian consumers over the last year, their largest gains in influence were made in online environments like price comparison/discount websites (up 14 percentage points since 2020).
Chart II. Traditional Media Influences by Ethnicity Since 2020
| | | | | |
| --- | --- | --- | --- | --- |
| | White | Black | Asian | Hispanic |
| TV Advertising | Down 1% | Down 6% | Down 12% | Down 5% |
| Print Advertising | Down 3% | Down 1% | Down 7% | Up 5% |
| Online Advertising | Up 1% | Up 1% | Down 26% | Up 4% |
As increased media consumption came to the forefront of Americans pandemic experience at home, the trend continues with radio listening at its highest point in the last 16 months, according to a recent Inside Radio article citing Nielsen's latest "Audio Today" report.
As Americans return to commuting this fall, the article also cites Nielson's continuously measured diary markets (CDM), which report an increase for in-car listening in May of 2021 (44%), up 6 percentage points since May of last year. With the uptick for in-car listening, advertisers have an opportunity to create more exposure via radio for omnichannel offerings for brands.
GfK's FutureBuy research shows diverse shopping strategies and preferences can be essential information for advertisers targeting different types of buyers. Armed with this information, they can make smarter choices with their ad dollars, and reap the rewards in successful, high-ROI campaigns.
Footnote: GfK FutureBuy® 2021 research was conducted in the US from February 6th to May 13th, 2021, among over 2,000 consumers ages 15 to 65. Globally, the study is fielded in 28 countries around the world, based on interviews with over 50,000 shoppers.
GfK. Growth from Knowledge.
For more than 85 years, customers worldwide have trusted GfK to support them in business-critical decision-making processes around consumers, markets, brands, and media. With our trusted data and insights, combined with advanced artificial intelligence, we have revolutionized access to real-time, actionable recommendations that increase the marketing, sales, and organizational effectiveness of our customers and partners. This is how we promise and deliver — Growth from Knowledge.