Contributor: Rick Kestenbaum, General Manager, AnalyticOwl
As lockdowns occurred at the onset of the pandemic in 2020, Americans experienced financial concerns and reviewed all their household expenses – including insurance. Consumers evaluated their auto, home and life insurance policies. They also realized the importance of their insurance carrier's ability to handle their concerns quickly, efficiently and virtually.
Today, consumers are viewing insurance as a necessity and have considered increasing their spending in property and life insurance. According to a survey released by a software company in 2021, 45% of adults have shopped for home or auto insurance in the past six months. In addition, people who were sick or knew someone who got sick from COVID-19 are 60% more likely to have purchased life insurance. Consumers also expect the companies with which they work to provide flexibility by adapting to the new ways that consumers want to engage and do business – in person and online. According to this same survey, 69% of consumers expect that the companies with which they engage will automate and digitize to serve their customers remotely.
There are great opportunities for insurance companies and their local agents to reach consumers who are considering changing the current insurance carrier or make changes to their policies. Radio reaches 87% of adults who plan to switch their current homeowners or renter's insurance and 86% of adults who plan to switch their auto insurance carrier as well.
Radio also informs consumers of the sites that they can visit to learn about various policies. Radio reaches 87% of adults who used the internet or an app in the past month for financial or insurance information, according to Scarborough data.
Based on responses measured between June 1 and November 30, 2021, an AnalyticOwl Industry Insights report for the insurance category reveals a number of opportunities that advertisers can use to better understand the impact of radio on website and foot traffic. They can also understand where and how to optimize to even better respond to existing and potential customers.
One key finding is that during this period, 70% of website visits occurring immediately after commercials aired came from search engines (Google, Bing, Yahoo, etc.), while only 26% of website visits came from users who entered a specific website address. Why is this important? In Google Analytics, the "referring source" metric identifies the last website visited by a user. That can give the impression that all that traffic should be attributed to search engines, when in reality, many visits are from people who had just heard a commercial and then used a search engine to get to the site.
Understanding that people will overwhelmingly behave this way no matter what call to action is used is key to understanding the full impact of radio. Hard-to-remember website or landing page addresses, dedicated phone numbers and response codes all attempt to create a narrow response path that most people simply won't take.
The best days for website response were Wednesday and Tuesday, followed by Thursday. Messaging during the weekend certainly plants the seed, and the spots airing midweek drive the spike in response. The best daypart overall was Midday, 10 a.m. to 3 p.m., but Evenings, 7 p.m. to 12 a.m., were close enough to warrant consideration since more favorable evening rates can create a good overall value. And :30 was the best performing ad duration, driving 4% lift in web traffic. This is an important consideration for those using :60s.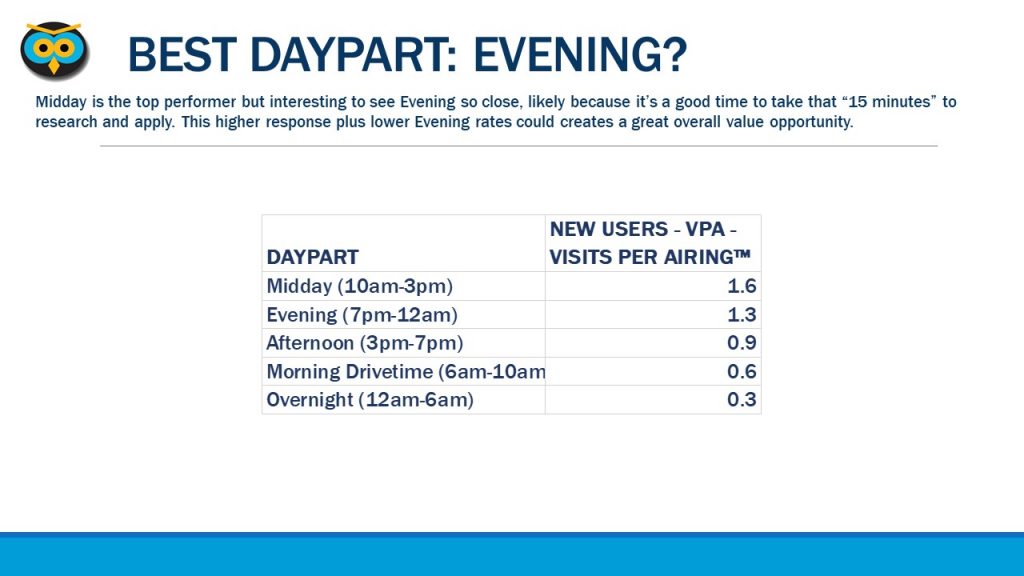 Radio visitors also drove quality visits. Session durations averaged three minutes, 21 seconds and 2.16 pages viewed, indicating serious interest and response. Bounce rates were on the lower side, 38%, indicating that fewer people just visit a single page before leaving the site. And 50% of site visitors used a mobile device, a great reminder that radio audiences can easily respond anywhere and everywhere.
On the foot traffic front, a useful measure for local brokerages where people might drop in for an appointment, the web traffic midweek emphasis shifts a bit as Monday and even Saturday perk up to be good performers. That can help with creative strategy through the week, encouraging in-person visits on days that people are likely to come in.
For advertisers who make it their "policy" to follow these insights, there is the promise of even better response, especially if radio is part of their overall marketing plan.