Author: Annette Malave, SVP/Insights, RAB
After a few years of limited personal interaction, consumers are hungry. They are hungry for social events, gatherings and the experience of food outside of their homes. All consumers have truly become "foodies."
Despite inflation and shifted shopping behaviors, consumers are still dining out and taking out. They are, however, dining out less often so it is important for dining establishments to provide the experience and selection that diners consumers are seeking.
According to report released by Near, a global SaaS leader in privacy-led data intelligence on people, places and products, people are eating from restaurants 9.1 times per month, just slightly below pre-pandemic levels (9.7). They also want the experience of where they dine or get their food to match their experience.
When consumers dine out at a restaurant, the top two reasons they are doing so because they are craving a certain type of cuisine (64%) or celebrating an event (58%). The experience of dining out also matters with 43% stating that they want to enjoy the ambiance.
Results from the Near Restaurants 2022 report points to the importance of the traditional waiter service driving the experience (72%). Fast casual (order/pay at a counter with a server), online ordering (for pick-up or delivery) and fast-food experiences are still enjoyable but not as high as the waiter experience.
Despite many consumers appreciating the dining-in experience, 57% of diners agree that it is nice to have any restaurant offer takeout or delivery services. The option of restaurants offering curbside pickup, takeout or delivery during the pandemic was a saving grace for those businesses that did. Those that did not offer these perks struggled to recoup lost dollars from the lockdown. As we already know, based on multiple surveys and reports, consumers expect any food establishment to offer these options. Takeout and delivery service options from all restaurants – from fast to fine dining – is here to stay. Addressing consumers' preferences can help drive sales for any establishment. Communicating the availability of dining options is a necessity and radio can help.
Radio reaches 94% of adults who have visited any restaurant in the past six months, per MRI-Simmons. Radio listeners, whether they enjoy take-out or a steakhouse, over index for high restaurant tabs. When it comes to dining at the physical location, radio listeners who frequent fast-food establishments (five or more times past month), are 102% more likely to spend over $101. Those who frequent family restaurants or steakhouses (four or more times past month) are 73% more likely to spend over $201 at those restaurants.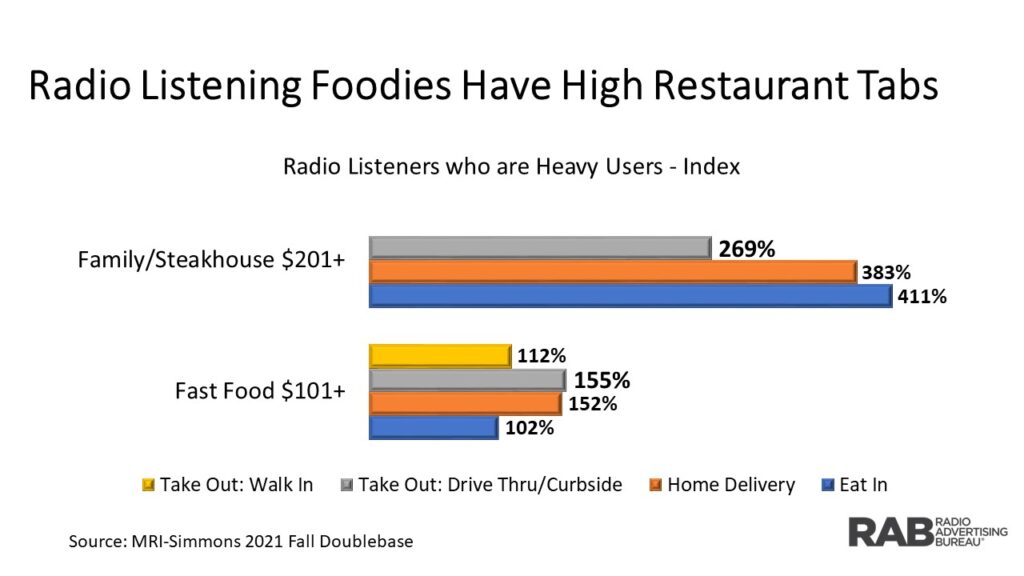 Whether it is celebrating an event or satisfy a craving, consumers enjoy their restaurant experiences. Dining establishments who want to promote deals, menu options or describe a culinary experience, need to use radio. Radio listeners who enjoy food from restaurants are not just good eaters and foodies but big spenders too. That is a tip dining establishments want!