Contributor: Leo Kivijarv, Ph.D., Executive Vice President & Director of Research of PQ Media
Since 2012, PQ Media has been offering opinions and data to the Radio Advertising Bureau during federal elections, and PQ Media has been publishing political media buying estimates since the 2004 elections, with 2022 being the 10th election cycle analyzed. This is part two of our analysis.
Political Media Buying 2022: I Really Wish I Had a Shoe Phone So I Wouldn't Get Text or Streaming Ads!
Most voters want a break from bombardment of political advertising and marketing, but that won't occur for another 75 days. In some DMAs, such as Topeka, Juneau, Fairbanks, Tucson and Columbus, political advertising accounts for more than half of all broadcast television advertising, according to BIA Advisory Services, and over 15% of overall local advertising in other DMAs, such as Columbus (GA), Augusta and Youngstown. This is not unusual in DMAs located in states in which there are two or more contentious races in the same year, which is true in 2022 in Arizona, Georgia, Nevada, Pennsylvania and Wisconsin.
For the first time since the 2010 elections, total spending on political media buying during the midterm elections will exceed the spend during the previous presidential election. PQ Media has estimates that total political advertising and marketing will reach $10.20 billion in 2022, up from $10.14 billion in 2020. It is 51.1% higher than the $6.76 billion spent during the 2018 midterms.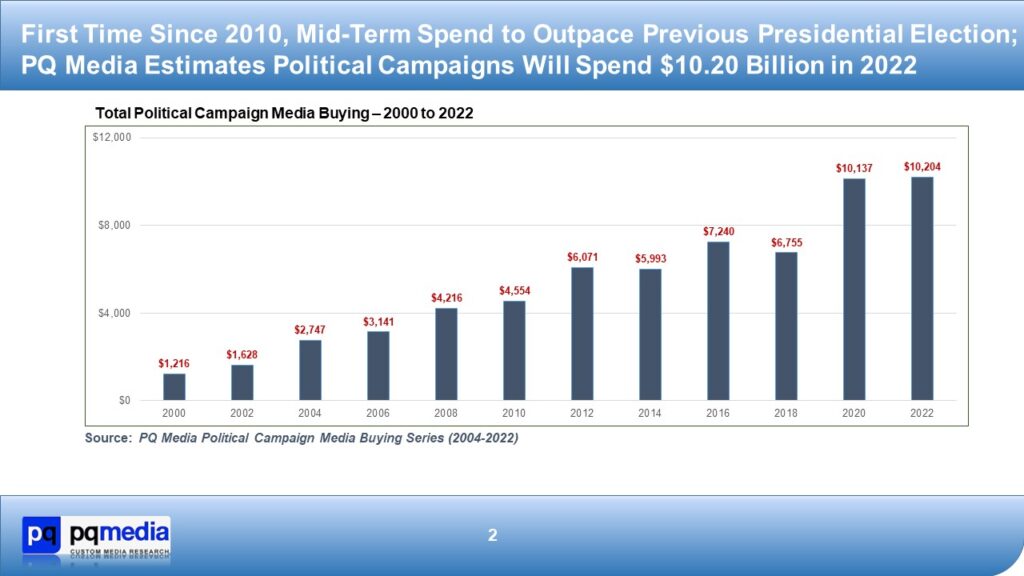 PQ Media projects that Senate races represent the largest share – 34.7% or $3.54 billion. House races will generate $2.79 billion in spend, gubernatorial elections $2.43 billion, local/down-ballot races $784 million and referendums $657 million.
Broadcast television will remain the king of political media buying, reaching $4.11 billion, which represents a 31.2% increase from 2018 spending on the medium, according to PQ Media. The only other media platform to exceed $1 billion is direct mail ($1.67 billion). However, if pure-play mobile advertising, pure-play internet advertising and over-the-top TV (OTT, also known as streaming video) were combined, digital advertising is expected to reach $1.75 billion in 2022. (It should be noted that PQ Media includes advertising on the digital extensions of traditional media [e.g., WCBS.com, WFAN.com, NYT Mobile App] with the traditional media platform [e.g., television, radio, newspapers, respectively]). Media platforms that will exceed $500 million, including cable TV ($835 million), OTT ($675 million), pure-play mobile ($575 million) and pure-play internet ($502 million), with social media advertising being the principal driver for the latter two media.
PQ Media forecasts that OTT is expected to be the fastest-growing medium, soaring 8,337.5%, as most ad-supported streaming services, other than Hulu, had yet to debut in 2018. Pure-play mobile will also post outstanding growth, climbing at a 609.9% rate. Experiential marketing (e.g., conventions, rallies, invitation-only dinners, etc.) will only post a 34% gain in 2022 compared with 2018, but it represents a 119.3% increase over 2020 when COVID-19 social-distancing mandates led most events to be cancelled, held with smaller audiences or shifted to video conferencing, like Zoom. Five media will exceed 50% growth when 2022 results are compared with 2018 spending, including cable TV (77%), public relations (73%), pure-play internet (70%), promotional products (68%) and market research (61%). Even newspapers are expected to post growth in 2022 (11%) when compared with 2018 spending, the first time in more than a decade that it hasn't registered negative growth.
Where Does Radio Fit In? Where Is the Phone Booth to CONTROL's Headquarters?
Radio, including podcasts, ranks fifth in size, with the potential to reach $644 million in 2022. One of the growth drivers is the aforementioned tight television inventory, which is good for radio because it receives additional attention when TV inventory sells out at local stations. However, there are more options available for candidates in 2022 due to technology advancements, such as programmatic media buying and automated placements. That is, cable television, OTT, pure-play internet and pure-play mobile are being purchased more often when TV inventory is unavailable because of the ease of purchase, particularly since it is difficult to buy radio using these technologies (less than 4% of over-the-air (OTA) inventory purchased using programmatic according to the PQ Media Audio Media Forecast 2022).
Radio will register a 29% gain in 2022 compared with 2018, which ranks it 11th among the 14 media platforms used by politicians, exceeding the growth of other traditional media platforms like direct mail and newspapers. Podcasting will help fuel the growth since it provides candidates access to younger independent voters according to the Cumulus Media Everybody's Listening blog. OTA radio [AM/FM] is often used to motivate party loyalist to vote, particularly ads aimed at older conservative voters on talk radio stations. On rock, R&B and Hispanic stations, radio is used in conjunction with podcasting to get younger demographics, especially independents and Democrats, to register to vote.
Final Thoughts: This is KAOS, We Don't Do That Here!
Historically, 65%-to-75% of all political media buying occurs after Labor Day. The rational is that voters are finally paying attention to the races and where candidates stand on the issues. As expected, the rhetoric is becoming more negative, with each party having a different agenda, according to Kantar/CMAG and the Wesleyan Media Project. The major topics within these ads are abortion, energy/environment, guns, healthcare, immigration, inflation and public safety.
Can things change over the next 75 days? Absolutely. Will those changes lead to more fundraising, and conversely additional political media buying? Absolutely. For example, what new insights will we learn when the January 6 House committee convenes again on national television? Will inflation stay under control and the job market continue to be robust? Will some unforeseen event occur, like an end to the Russia-Ukraine conflict or a Chinese military attack on Taiwan? Being most closely monitor are the court cases against Donald Trump and whether the Department of Justice and/or the states of New York and Georgia release any new information before the elections, including bringing charges against Trump enablers, his family members or Trump himself? The initial answer is yes, given that New York Attorney General sued the Trump Organization in civil court on September 21, stating, "For too long, powerful, wealthy people in this country have operated as if the rules don't apply to them. Donald Trump stands out as among the most egregious examples of this misconduct."
What's certain is that ads will continue to run nonstop on television, radio and digital media. Direct mail pieces will be crammed into mailboxes, particularly in zip codes with a large share of independent voters. Voters will be inundated with calls from pollsters and candidates. Consultants will make a bounty doing market research. Out-of-home signs will appear on lawns and in venues not necessarily associated with political advertising, such as video screens at gas stations, gyms and salons. There will be more rallies where promotional products will be hawked to raise much needed cash, like coffee mugs and MAGA hats (but no Bernie Briefs).
Once all of this is over and we know whether the Democrats held onto the Senate and if the House shifted to the Republicans, we will all want to get into our Sunbeam Tigers to take a vacation, although we'll feel like Agent 13 crammed into a small object. Then in less than two years, we start all over again with political media buying for the 2024 elections. Will 2024 political media buying exceed $12 billion? Stay tuned. Maybe Get Smart gets a reboot on streaming service like Netflix in the interim.
RAB members can view a special report here.