Author: Victor Texcucano, Content Coordinator, RAB
We're living in a new era – an era where medical cannabis is legal in 39 states and its recreational use is legal in 19. Did you ever think we'd be here? Public opinion has evolved on cannabis, though some still are wary of it. The good news is that there may be a product that brings the health benefits of cannabis without the adverse side effects many associate with it.
CBD, otherwise known by cannabidiol, is a nonpsychoactive compound of cannabis. This means that CBD by itself does not cause a "high." However, many have found countless other benefits to CBD, which is now found in creams, balms, vapes, tinctures and even bath bombs. Advocates for the product tout CBD as a great treatment for pain relief, inflammation, depression, insomnia and even anxiety. While the USDA has not yet evaluated these claims, CBD remains a very relevant health and wellness product with growing popularity.
CBD is widely available thanks to the 2018 Farm Bill, which legalized hemp, a cousin of the cannabis plant. CBD is often extracted from the hemp plant in a laboratory. However, CBD has been in somewhat of a legal limbo in recent times. In May 2021, a federal court in California ruled in a suit that delta-8 and CBD products fall under the legal definition of hemp — and are therefore federally legal — so long as their THC concentration remained under 0.3%. THC is the psychoactive component in cannabis.
According to a 2022 Provoke Insights study titled CBD & Radio: Trends, 81% of Americans are aware of CBD, though this number is the same as in 2021.
The report also states that more than 34% of Americans have purchased a CBD product, and that a CBD purchaser is more likely to: have children in the household (41%), feel optimistic about the future (40%), be a millennial (40%) and lean Democratic politically (38%). Sixty-five percent of past purchasers said they are likely to buy it again in the future.
According to the report, these are the perceived benefits of CBD according to Americans: Relieves pain (69%), alleviates feelings of anxiety/depression (59%), improves sleep (56%) and reduces inflammation (46%).
This report says that radio listeners are more likely to be aware of CBD (49% versus 45% for nonlisteners) and are more likely to have purchased CBD in the last month (36% versus 32% for nonlisteners).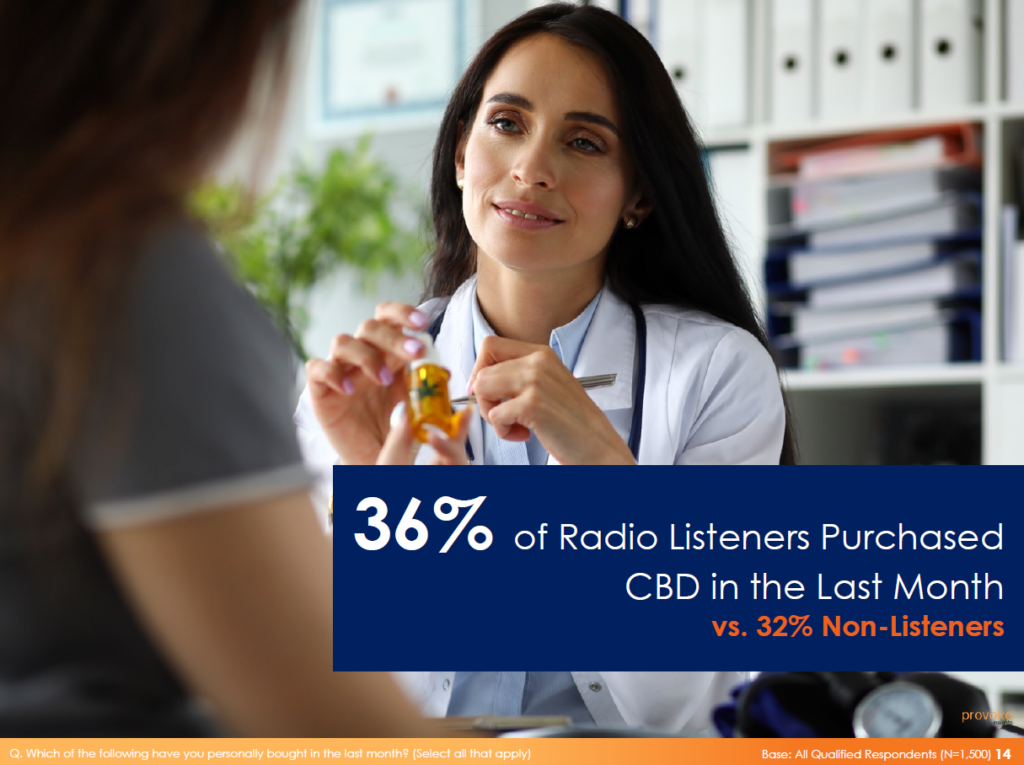 So why is radio an attractive medium to reach consumers who may be interested in CBD? As this report points out, 50% of radio listeners search the web for more information after hearing an advertisement. Twenty-seven percent speak to others about it, and 19% purchase the product. These are all great things to share with advertisers.

In addition, according to MRI-Simmon's 2022 National Cannabis Study (F21 USA), 16% of radio listeners have consumed CBD in the last 12 months – and of those radio listeners who consume CBD:
92% agree cannabis use has many health benefits.
91% agree cannabis is good for the mind and body.
90% agree cannabis should be normalized.
Better yet, 37% of these radio-listening CBD consumers report typically listening to music while consuming cannabis products and 48% say radio puts them in a good mood. The top desired effects from consuming CBD (among radio listeners) are relieving pain, reducing anxiety and inducing sleep.
While some research should be done to see if there are any legal challenges to advertising CBD products in your area, retailers selling these products should keep radio in mind when looking to reach new consumers. Why? Because radio works for CBD advertisers. "Radio has proven itself to be the most effective media platform," according to Erick Dickens, Co-founder and CEO of Kadenwood, a plant-based wellness firm. During the Association of National Advertisers Masters of Marketing conference, Dickens explained that AM/FM radio was the most effective in generating awareness and sales. Kadenwood's cream for aches and pains uses CBD.
RAB members can view this report on the Provoke Insights section of RAB.com.