Earlier this month, the Los Angeles Times reported on the shuttering of a chain of Eastside community newspapers. One article even went so far as to say, "Local and regional newspapers that serve Southern California are going through tough times, leading some to question whether traditional newspapers can survive." Radio has always been there – now it is even more valuable! The importance of local radio to the local community can't be understated.
The challenge for local Newspapers has been how to sustain a newsroom and make a profit when print advertising is fleeing to lower-cost space on the Internet.  Most digital ads are concentrated on Facebook and Google, not newspaper websites. These two Internet giants take in 60 percent of online ad revenues.
Radio was shown as the most trusted platform used after the impact of hearing about "fake news" in political coverage.  See below for the Kantar "Trust in News" study where it was revealed 'mainstream news media's' reputation remained largely intact while social media and digital-only news platforms sustained major reputation damage. In addition, Facebook and other digital platforms are not designed to promote civic connection, but rather communities of interest often unmoored from particular geographies.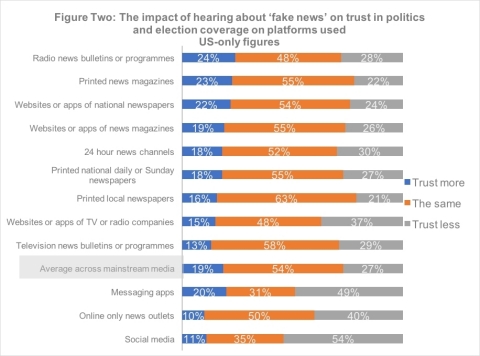 Nearly a century after radio stations began accepting commercials, BIA/Kelsey's 2017 "Investing in Radio" report says the medium now takes about 10 percent of all local ad revenue (see below chart).
This same report found that by 2021, radio will surpass newspapers and become the fifth-largest media category among advertisers.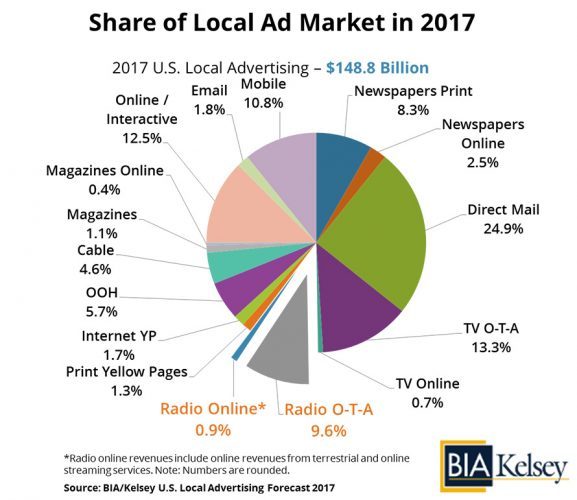 Radio, as opposed to Newspaper, is cost effective, highly targeted, timely, and frequent. In addition, Radio offers broad reach across all demographics, including younger consumers not easily delivered by newspaper advertising.
No other medium is at the center of providing residents with their town's must-have information. Radio is also reaching readers who don't have or can't afford Internet access. The necessity for Local radio stations goes beyond the business of broadcasting– they are a public service. Localism persists in broadcasting as a way to foster a local connection without dictating local content. Radio is live and local and is the heartbeat of the community.