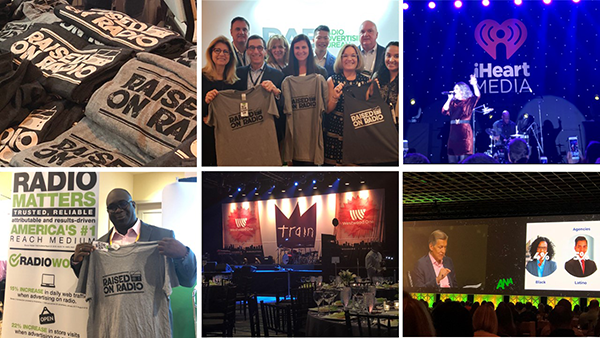 Photo Credit: Radio Advertising Bureau
Author: Tammy Greenberg, SVP/Business Development, RAB
Last week, the Association of National Advertisers (ANA) hosted their annual premier event, "The Masters of Marketing."  Commonly referred to as simply "The Masters" or the "Super Bowl" of the marketing industry, this event is one-of-a-kind in that it brings 3,000 CMOs, entrepreneurs, brand stewards, media executives, creative professionals, technology experts, digital leaders, research, insights and data folks together to share experiences, and provides the opportunity to learn from successful marketers about their challenges, opportunities, trends, best practices and successes taking place across the marketing ecosystem.
Radio was front and center entertaining, engaging, informing and telling its powerful story to the senior marketing executives who received it with open ears and embraced it with open arms.  RAB, along with our colleagues from Cox Radio Group, CUMULUS/Westwood One, Entercom, Hubbard Radio, iHeartMedia, Katz Radio Group, Radio One and United Stations, soaked in the insights from the nation's leading marketers.  Some of the takeaways that resonated most were concepts, themes, ideas and best practices that we can apply as we market to our listeners and as we connect and leverage our strengths with our advertising partners.  They included:
Consumer First:  Consumers are empowered and their expectations are higher than they've ever been before.  They want to be the creators of content, they are passionate, they want to be a part of the storytelling process and are looking for unique, personalized experiences.   Brands like American Express, Kohl's, Ancestry, Walt Disney Resorts and Progressive are those that are recognizing and have clarity on their customer base, their wants, their needs, their motivators and can link them to the brand's value proposition in a personalized, innovative and 360o way. They are the ones that are winning.
Technology and Data:  It was not the "typical" technology and data conversation because by now we all know that we have data and that technology continues to make it more accessible.  The challenge remains, as Bank of America's Lou Paskalis aptly quoted Rishad Tobaccowala, "Data is the new oil; how you refine it will empower your marketing vision."  Deloitte's Alicia Hatch took it a step further and explained that we as marketers (and media partners) must begin to humanize the data and dig in to determine why a consumer is doing something.  The true intersection of data and technology is essential to driving growth, and it was estimated that 30%-40% of a CMO's time is spent on or with data to enable decision making.  We heard over and over that investments are being made in marketing technology capabilities and training teams to be sure that the brands are connecting with their consumers at the right time in the right place in the right way with the right message.  The marketing industry still has a long way to go to reskill its people to connect data and technology and apply it to messaging, but there is most definitely significant progress and successes being achieved.
R.I.S.K:  An acronym shared from the main stage by Progressive's Chief Marketing Officer, Jeff Charney.  Fifty-four percent of consumers are conservative/risk averse and Progressive has the goldilocks theory regarding risk.  The best marketers go close to the edge, but they never go over.  R.I.S.K. stands for Relevance (not reckless), Information (not impulsive), Speed (act quickly but not in silos) and Ks (aka Strike Outs) – go for it and if you fail, get up and win (but stay away from know-it-alls).  In his presentation, Charney shared Progressive's "Curse Like a Sailor" radio advertising as an example of R.I.S.K. in action – a highly successful campaign that has significantly contributed to 5 years of record prospects and sales for the brand.
Driving Social Change & Brand Purpose: Not a new concept in marketing, but perhaps more important than ever because the problems are acute whether they be climate change, sustainability, the global water crisis or other critical issues.  Marc Pritchard, Chief Brand Officer for P&G, said, "People expect more.  It's not optional any more.  Nine out of 10 people form an opinion of the brand based on the brand's purpose, what it stands for and its ability to drive change."
Equality and Inclusion:  It is time to eliminate all bias to drive growth.  By way of example, it was found via the #SeeHer campaign that gender-equal advertising performs better with 10% higher ratings in trust and 26% higher sales growth.  Marketers and media are urged to use their reach, their voices and advertising to address bias and eliminate it for good.
Storytelling:  If we heard it once, we heard it a dozen times over the course of the 3 days.  Storytelling is the most powerful way to connect a brand to a consumer or a consumer to a brand.  Everyone has stories to tell – whether it's a woman on a plane that proudly tells her story about how her American Express card provides free WiFi, the little girl sharing her own Disney "Dream Big, Princess" story, the emotional stories that are a result of Ancestry's DNA testing, or those thrill of the hunt savings stories that can only come from shopping at Kohl's.
Is there a better platform for storytelling than radio?  We think not.
From the RAB booth perfectly poised at the entrance to the main stage, to the "Raised on Radio" tees and tanks (most requested swag of the event), to the conference app sponsored by Entercom, to the powerful presentation by Westwood One on Wednesday night followed by an incredible, high energy performance by Train, to the iHeartMedia WOW of a Thursday night with succinct reminders of the power of radio and a performance by Kelly Clarkson, Radio was there.  Radio was poised as a leader.  Radio made a difference.  Radio matters.  Radio works.  Radio rocked the Masters.