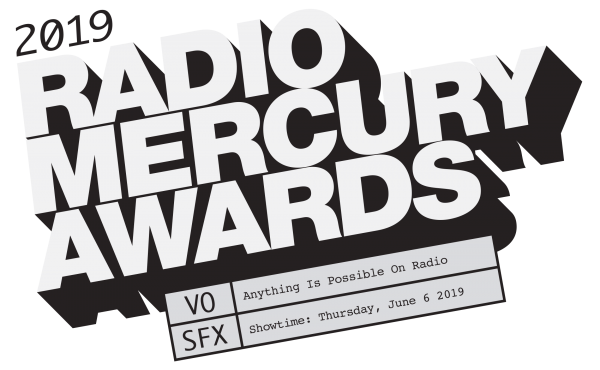 Author: Annette Malave, SVP/Insights, RAB
Anything is possible on radio.  You can hear a singing garbage bag, a hamburger rap song or something that sounds like a bull elk.  What you hear on the radio can also make you laugh, gasp or cry. 
Yes, anything is possible on radio and that's what attendees heard on June 6 at the 2019 Radio Mercury Awards, held at SONY HALL in New York. 
Radio can deliver an ad message like no other medium and this year's winners did just that.  "They innovated.  They had fun. They created little worlds that made me want to be there," stated Jeff Kling, Chief Creative Officer at Lightning Orchard, and a final-round judge.   
A total of 14 Radio Mercury Award winners did just that.  And winning isn't easy.  Chief Judge Chris Beresford-Hill, TBWA\Chiat\Day New York's Chief Creative Officer, knows all too well.  It was the first creative award he won and he understands that "to be a winner, you have to do something that's undeniably great.  You have to be excellent."

As an award that recognizes and celebrates creative excellence, the Best of Show Radio Campaign (and $50,000 grand prize winner) did just that, creating a surprising and engaging spot that used a real radio personality and listeners to drive awareness of a new product – Old Spice Pomade.  You can hear it and all the winners here. 
During the event, attendees also learned what RADIO stands for.  Jeff Charney, Chief Marketing Officer of Progressive Insurance, shared a childhood experience and his first interaction with radio — a remote at a local retailer.  While accepting the 2019 Radio Mercury Awards' "Radio Marketer of the Year" honor, he shared what he believes the letters R-A-D-I-O stand for. 
R is for relevance.  If you're not relevant, we shouldn't be in the business. We are very relevant

 today

.

 

A is for authenticity.  Every single spot that won was authentic and

 incredible

.

 

D is for disruption.  Everyone who won was disrupting.

 

I 

is

 for insight-based.  If you do stuff based on insight you're going to 

win

.

 

O is for out-create. 

Every

 

one

 of the winners was trying to out-create the other.  There's never anything wrong with a little friendly competition.
Charney, passionate about both radio and the event, encouraged the creative audience to follow the letters R-A-D-I-O and guaranteed that they will become the Radio Mercury Awards' 2020 "Marketer of the "Year."
"Radio.  There's nothing wrong with this business!" – Jeff Charney, CMO, Progressive Insurance 
If you missed the event, you can watch it here. 
Does the acronym R-A-D-I-O mean something to you?  Please share it with us.