Author: Annette Malave, SVP/Insights, RAB
There's nothing more thrilling for some than shopping for a new sofa, bedroom set, stove or refrigerator. It is so important to find the that one item that is just what you are just looking for or to quote the fairytale, the one that is "just right." Looking for that "just right" item isn't as easy today.
In the past, consumers would traditionally shop for furniture and appliances when they were moving, remodeling or just interested in a change. The pandemic caused consumers to not only reevaluate their homes but also where they lived and what they had in their homes.
For those that were able to, the increase in work from home along with the current trend of hybrid work, consumers realized the need for dedicated workspaces as well as making the homes more comfortable. Some even relocated to accommodate what was going to become the new work from home lifestyle. Also, with restaurant closures or limited services, consumers discovered their inner chef (or at least attempted to) by creating meals at home. Whether it was finding the perfect desk or upgrading their oven, the demand for new furniture and appliances not only increased but skyrocketed. Current supply chain issues are also placing pressure on that demand.
Despite all these challenges, consumers continue to hunt for the just right furnishing and/or appliance – both online and in-store. For those retail advertisers that cater to the consumer, radio is the just right medium with well over 83% of adults who plan to purchase furniture or appliances this year. With high reach, broadcast radio drives traffic to these retailer showrooms – both online and in-store.
An analysis of eight months of 2021 radio campaign activity proves that across furniture and appliance advertisers, radio lifted traffic – both online and in-store. Using data populated by the NumericOwl platform, radio delivered nearly 32 visits for every radio spot aired or 17% increase in new site visits for furniture retailers. Appliance retailer sites also benefited from radio campaigns with a 7% lift for the same time period. Also, as brick-and-mortar locations opened, radio campaigns for advertisers in each of these categories experienced a boost in foot traffic – 34% for furniture and 41% for appliances.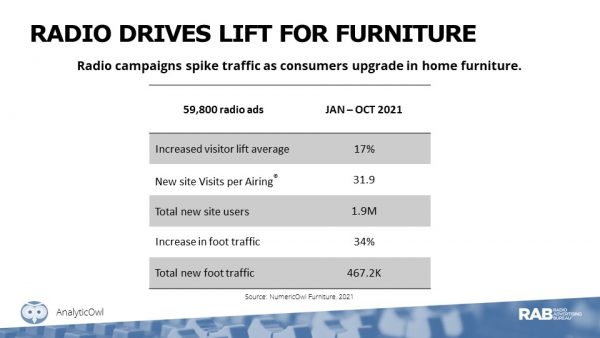 There were differences in dayparts and days of the week for each of these categories as it pertained to site traffic. Mondays and evenings were the biggest driver of site visits for furniture retailers. Afternoons and middays also had incredible impact. Other dayparts delivered minimally. Midweek and middays seem to be the perfect configuration for appliance retailers to generate the highest web lift, but advertisers should take advantage of the benefits of using other dayparts.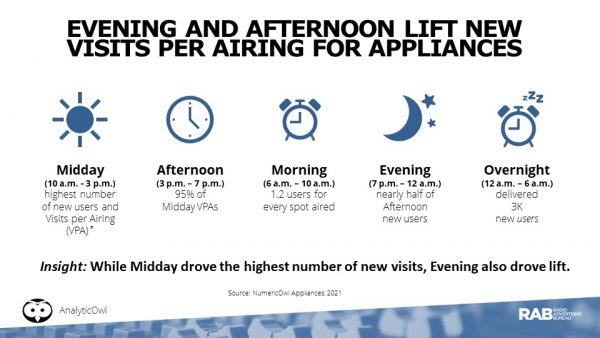 Radio delivers for furniture and appliance retailers. It reaches 83%+ of adults who are in the market for furniture and appliances, driving both in-store and online traffic. Radio should be the medium of choice for advertisers in each of these categories to ensure they get the results that are "just right" for them.
You can view the entire analysis here.