Author: Annette Malave, SVP/Insights, RAB
In 2022, the typical driver lost 51 hours sitting in traffic. That's a lot of wear and tear on a vehicle – regardless of the city you live in. With 12.5 as the average vehicle age on the roads today, there are service opportunities for independent service businesses and auto franchises alike.
There are over 284 million vehicles on the road today, per S&P Global Mobility. Per S&P, almost 122 million of those are over 12 years and, with the average aftermarket repair of six-11 years, many vehicles will be prime for service and repair.
With so many aged vehicles on the road, this might be great for businesses if it weren't for consumer sentiment. While consumers don't necessarily look forward to bringing their vehicle in for service, their perspective is impacted by lack of amenities in waiting areas and worsened by poor service. According to J.D. Power's 2023 U.S. Aftermarket Service Index Study, vehicle owners' satisfaction levels are low. When it comes to service advisors, those levels are even lower. Promoting a promise of great service, waiting area comfort and more can help to eliminate doubt and improve customer perception. Radio can help to drive this message.
Radio reaches auto service customers. Radio reaches 84% of adults who received an oil filter/oil change, 85% who purchased new tires, 86% who repaired their transmission and more, per Scarborough. Radio also drives traffic to auto service websites and brick-and-mortar locations.
Based on an analysis of 140,600 radio ad campaigns from May 2022-May 2023, radio ads increased visitor website traffic 5% and increased foot traffic 22%. Additionally, for every spot that ran, radio drove two new site visits and four new location visits.
Auto service businesses should use midday and afternoon drive to increase web traffic. Despite any myths about overnight, it served as daypart that delivered more new users than morning. Also, website activity was highest on Wednesdays. To increase on-location traffic, auto service businesses should anticipate Tuesdays to be busy. Radio campaigns drove the highest new traffic to brick-and-mortar locations on Tuesdays.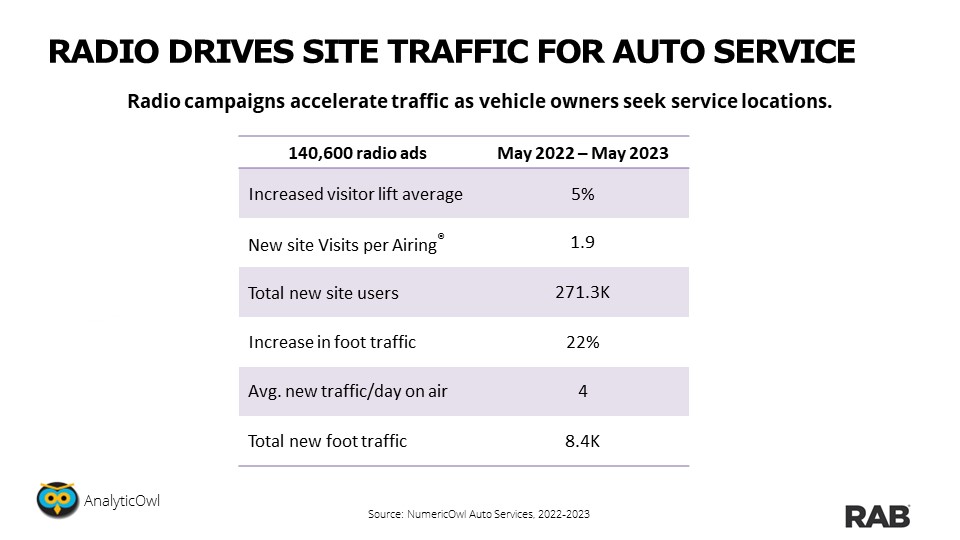 The opportunities for auto service business to increase their revenue are plentiful. As vehicles age, the need for services will increase. Auto businesses should address any possible concerns that potential customers may have about their service experience by addressing waiting area comforts, service advisor expertise and more. Using radio to communicate this information will not only accelerate activity to website and brick-and-mortar locations, but it will deliver it in a trusted environment.
RAB members can view the full presentation here.