Author: Annette Malave, SVP/Insights, RAB
Since the start of the pandemic, there has been growth among various industries and by-product services. However, when it comes to product categories, one in particular has seen incredible growth – in sales as well as within various products – CBD.
According to Brightfield Group, the U.S. CBD market was estimated to grow from $4.4 billion in 2022 to $10.3 billion, if regulated federally. Regulation would allow CBD products to be sold as supplements, added to food, beverages, etc. One area that is seeing CBD-infused product growth is cosmetics/skin care.
Products infused with CBD have been gaining interest among consumers. An MRI-Simmons study uncovered that nearly six out of every ten adults 18+ are interested in cannabis-infused products and that interest grew from 48% in 2019 to 58% in 2022. However, interest in various product verticals varied per the study, ranging from a 7% growth in interest in food to 14% in CBD skin care and as high as 38% in dog treats.
So, who is more likely to purchase CBD? Millennials (9%), men (8%) and parents (8%) are more likely to purchase CBD products compared to 6% of adults 21+ in the U.S. Where do radio listeners fare? Even greater. Radio listeners are an opportunity for CBD product purchases – nine percent of radio listeners plan to purchase CBD products compared to seven percent of nonlisteners, per Provoke Insights.
Based on a survey of 1,500 adults ages 21-65 conducted by Provoke Insights – a full-service market research firm, one quarter of Americans have purchased CBD skin care products. They are predominantly young, working from home and have children. Radio listeners are more likely to be purchasers of CBD skincare products – 26% have purchased compared to 23% of nonlisteners.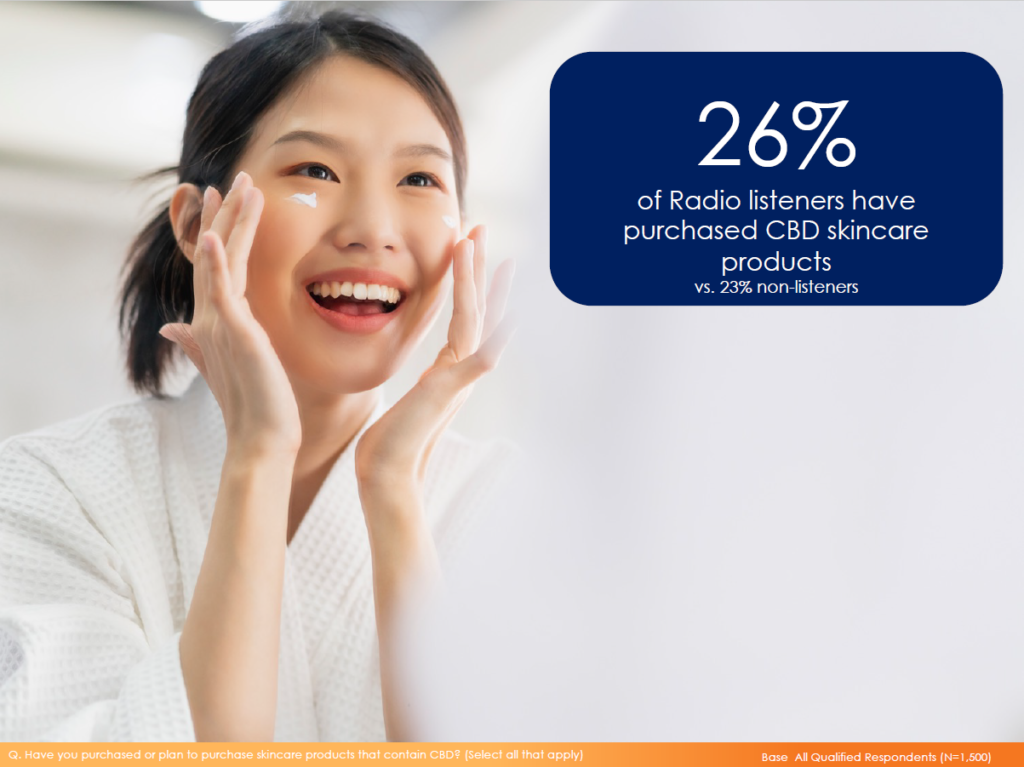 Skincare brands who use radio to promote their products should understand the appeal of CBD in skin care to radio listeners. Compared to nonlisteners, radio listeners are more likely to have purchased CBD-infused skin care to reduce inflammation and because it has been recommended by a friend or family member. Brands should continue to educate consumers as well as provide offers as radio listeners agree that they are not knowledgeable enough about the products and avoid these items due to high costs.
Reaching potential buyers for any brand is important but in this booming market of CBD-infused skin care, the opportunities are even greater. There are still challenges and regulations that need to be considered, as well as some limitations to advertise via broadcast radio but there are also opportunities for brands and radio alike via broadcast radio's digital platforms.
RAB members can view the full report here.
Note: Broadcasters should check and confirm rules and regulations with their state associations as it pertains to CBD advertising.