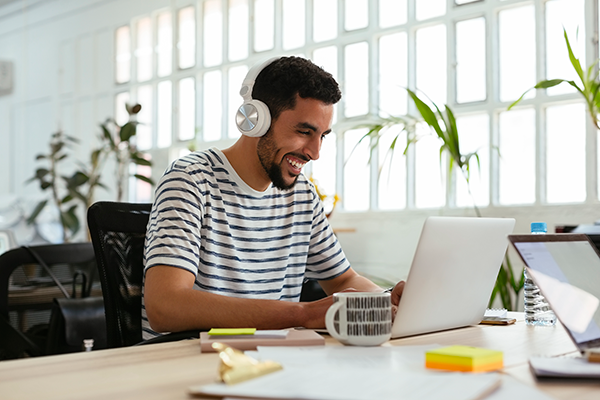 Author: Annette Malave, SVP/Insights, RAB
While the internet, sometimes referred to as a "network of networks," was around in the '70s it did not become available to the public until the early '90s.  Since then, the ability for consumers to tap into the internet has had an incredible impact on everything they do – shopping, driving and even their media consumption.
According to Pew Research, 90% of adults use the internet. So how do they engage with media, and specifically with radio?  Earlier this year GlobalWebIndex, a global market research company that provides audience profile data based on an ongoing study of digitally connected consumers, released insights of how they engage with media.  Recently they shared with us data from Q1 – Q4 2018 about U.S. internet users ages 16-64.
Internet users spend most of their media time online (53%).  There's no surprise with that, but they also spend a significant amount of time with broadcast radio (10%).  These internet users spend 1 hour and 13 minutes daily with radio, on average.
Despite continued growth in media options available, time spent with broadcast radio in 2018 remained relatively unchanged versus the time spent in 2012.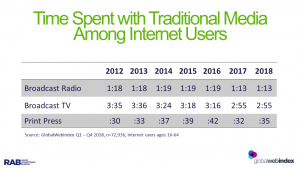 Among the traditional media options included within the survey, broadcast radio maintained 94% of its 2012 time spent listening.  And while broadcast TV continues to have the dominant share of traditional media time, the decline in time spent is considerably greater – at nearly one half-hour.
As a traditional medium radio plays a role in the lives of these consumers, connecting with them for well over 1 hour daily. Radio is the perfect complementary medium to internet users – allowing them to multitask, keep them company and entertain them as they go online. Radio is also the perfect reminder medium – helping listeners learn about various products or services available to them and aid in their online search.