Author: Annette Malave, SVP/Insights, RAB
What's the one thing that everyone needs but not many have? It's also one thing that many adults won't speak to their loved ones about. Life insurance.
According to the Insurance Information Institute, only 60% of U.S. adults had some form of life insurance and 20% believed that they didn't have enough. The most common reasons for owning life insurance: cover burial and final expenses, help replaced lost wages of a wage earner and leave some money/inheritance.

Consumers today have options for getting quotes and purchasing life insurance. They can get it through a financial professional, website (company or group), phone and mail. Like other categories, search is an important component of the research cycle for life insurance shoppers. According to the LIMRA 2019 Insurance Barometer Study, the top two sources are life insurance company websites and online life insurance aggregators.
Radio reaches over 92% of the adult population that have shopped for insurance on the internet. And with this incredible reach, radio can drive life insurance search.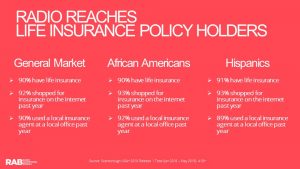 In an analysis of over 18,00 life insurance radio ads in 2019, radio drove a 10% increase in new user search. Additionally, seven out of every 10 people who went to a life insurance site by radio were new visitors.
Based on an analysis of data compiled by NumericOwl, radio ads drove 141 new users daily. Tuesday and Hump day (more commonly known as Wednesday, drove the highest activity, followed by Thursday. Based on online activity, advertisers in this category may want to consider an abbreviated week versus the traditional seven-day week. Evening drove the greatest number of new users. Midday and Afternoon are solid dayparts for a life insurance radio campaign.
Buying life insurance may not seem like a necessary expense to some but it is important. Radio's emotional connection with listeners can help to drive the important message and influence online behavior. Radio has got this covered. (View the slide presentation here.)