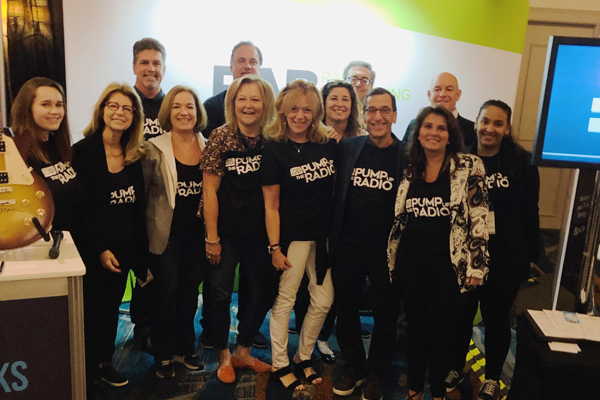 Author: Tammy Greenberg, SVP/Business Development, RAB
It's nothing new to say that we are living in an attention economy. We are marketing to consumers during a time when there is more noise and choice than there ever has been before – in media of all forms, on the shelves of grocery stores, in the search results on your mobile device or computer, in airports, at events and more. 
Last week, the Association of National Advertisers hosted their annual confab of Masters of Marketing. Over a period of three days, chief marketing officers from national brands took the stage inspiring a group of nearly 3,000 brand stewards, media professionals, analytics and ad tech partners with their brand stories, strategies, and goals for growth.
The theme of the conference was entitled "Growth" but the theme of the messages can be summed up like this: if you don't connect in a human way with consumers, becoming a purposeful brand that is like-minded, empathetic and understanding, growth simply cannot be accomplished. Alicia Tillman, CMO, SAP, cited proprietary research that reinforced this message sharing, "today we live in an experience economy and what that means is that business is won or lost based on the value of the experience we deliver. We have a responsibility as brands to become more relevant – we have to understand the feelings of our buyers more so that we can model the experience before we serve it to them."
This message was brought to life through impactful presentations that included advice in the form of lessons learned, strategies that successfully drove incremental engagement and results that turned brands around. Takeaways by brands include:
Marc Pritchard, CMO, Proctor & Gamble revisited the fact that we are operating in a perpetual state of disruption (TV continues to decline, trust in digital continues to erode, data and analytics are interrupting our work) so we have to lead within that universe and it's called constructive disruption. Consumers buy on a basis of shared beliefs so P&G brands deliver on those beliefs creatively, innovatively and with mass reach with one-to-one precision.
Jill Estorino, EVP, Global Marketing and Sales, Disney Parks, Experiences and Products talked about how they ensure magic for their fans. Consumers want to be creators and owners of their own experiences, a deep understanding of this will help drive more meaningful relationships. 

Tony Weisman, CMO, Dunkin' successfully rejuvenated the brand by digging in, determining the role the brand plays in consumer's lives which led to a renewed value statement of "we refill optimism." The lessons they have learned along the way include, "stay true to who you really are to consumers, be a good listener, be frictionless and convenient, don't let yourself get tired or stale, keep it interesting, make each other laugh and the moral of the story, and don't take brand love for granted."

Andrea Brimmer, CMO, ALLY Bank, said brand building begins with authenticity and your value proposition must be rooted in a consumer truth – they must always be at the center of what you do because emotional attraction to brands is still the #1 driver of performance.

Chris Brandt, CMO, Chipotle needed to lead the brand to reclaim its place in culture and philosophically pivoted. The brand went from relying on couponing and promotions to drive business to defining a core brand purpose "cultivating a better world" and conveying it through quality food, in-store, in marketing and through its people – Chipotle "For Real."

Doug Zarkin, CMO, Pearle Vision brought care back to eye care by an understanding that marketing is about positioning and positioning is about the art of sacrifice and should be the north star for all behavior. 

Marcel Marcondes, U.S. CMO, Anheuser-Busch demonstrated how humanizing the brand has the ability to change the game and advised to speak in the consumer's language. Don't talk about the things YOU want to talk about, talk about what THEY want to hear.

Meredith Verdone, CMO, Bank of America presented the situation the brand was faced with as it hemorrhaged trust during the financial crisis. It was a transformation story that started with finding their purpose which led to giving their customers power over their financial lives across all products and platforms including the local communities it serves.

Rick Gomez, EVP, Chief Marketing and Digital Officer, Target Corp shared "embrace change, embrace new, admitting your wrong when a mistake happens but most importantly put your customer first and do right for them and your brand…always."
The RAB asked Rick Gomez since the Target brand is an incredibly established visual brand, what is the plan for the brand's audio strategy in the increasing voice-activated world? His response was "I am smiling because we are having these debates right now. What is the sound of Target? Unmistakably, Target is our goal, sound is really important, and we think we have a real opportunity to think about audio branding in a really unique way that goes beyond a commercial."
BUT! That's not all folks… Radio was once again at the forefront among this esteemed group of marketers and advertising agencies. From the Westwood One hosted party featuring One Republic and the iHeartMedia dinner featuring BUSH, to the RAB booth proudly interacting on radio broadcasters' behalf and including our partners-in-crime: Entercom, Cumulus/Westwood One, Katz Radio Group, Cox Radio Group, Hubbard Radio Group, Beasley Media Group and iHeartMedia. Radio, across the audio universe (broadcast, podcast, streaming, voice, influencer marketing, experiential and more), was the buzz of the show. A medium that always leans in to its listeners, serves the content listeners crave and provides the platforms that marketers need to remain relevant and drive growth.