Contributor: Meg DiMattina, Account Director/Claritas
With so much happening in the United States over the last several years, from concerns about the economy and inflation, rising healthcare costs, the COVID-19 pandemic, changes in abortion rights, and more, it is understandable that many Americans are dissatisfied and feel that the country needs major changes.
Since 2014, the total percentage of U.S. registered voters has grown, resulting in an increase in voter participation. The 2020 presidential election had the highest voter turnout of the 21st century and it will be interesting to see what the upcoming mid-term elections and next presidential election will have in store.
Generally, the younger population, who are more diverse, are not registered to vote at the same rate as older individuals. More than half of the Millennial and Gen-Z population are Hispanic, Black, Asian or other diverse races. In addition to being less likely to be registered to vote, they are also less likely to always vote in Presidential Elections, particularly Hispanics, who tend to be affiliated with the Democratic party. However, in 2020, more Hispanic and Asians voted than in previous elections.
Democrats and Republicans continue to have different views regarding the most important priorities for the country. While reducing costs, improving education and focusing on environmental issues are among the most important issues for Democrats, strengthening the economy and military services are among the most important issues to Republicans.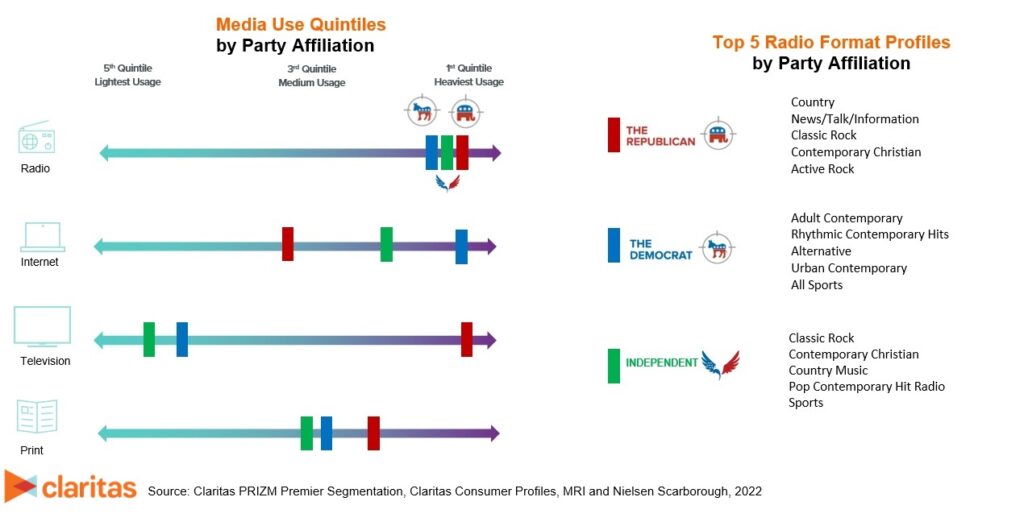 The media plays an important role in politics, with voters looking to the media to make educated decisions. Radio is a key channel to target voters, as it reaches 83.4% of all registered voters and is among the heaviest used media channel, regardless of political party.