Author: Annette Malave, SVP/Insights, RAB
When it comes to summer heat, there's only one thing better than a cold beverage – having a cold beverage with a good meal out. Those meals taste better because there isn't the need to clean up the kitchen.
Consumer behaviors shifted during the pandemic. More at-home cooking and more at-home "drinking" became the norm. As doors opened, so did the interest in going out.
Seventy-eight percent of consumers agreed that their dining habits have changed compared to pre-pandemic levels. Only 21% of adults stated that they are now eating out less often, according to Provoke Insights, a full-service market research firm. In fact, the younger generations (Gen Z and millennials) are eating out more and at a variety of restaurants.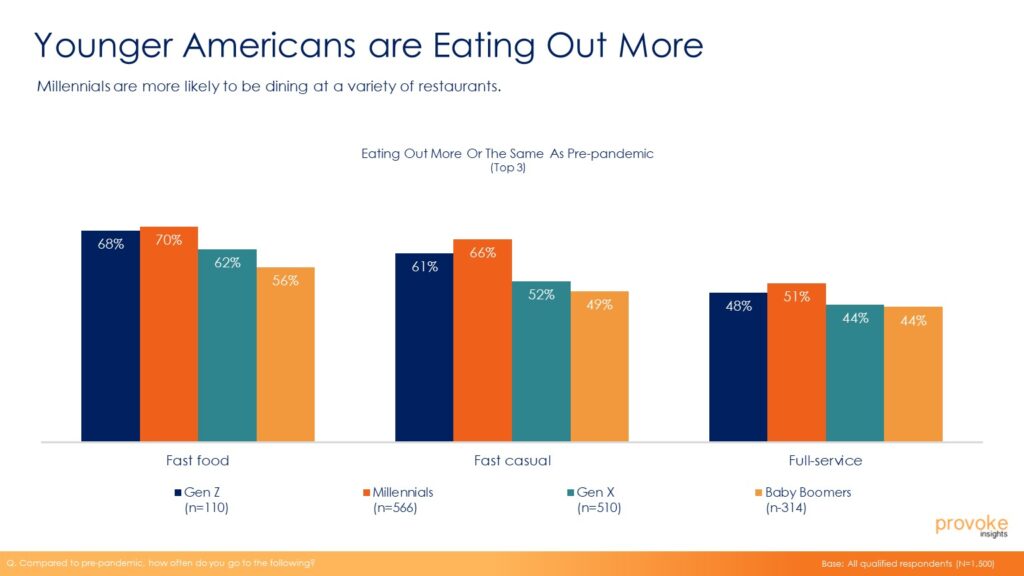 Additionally, 66% of millennials are eating at fast casual restaurants the same or more as prior to March 2020. But inflation is impacting their views on menu pricing, as only 35% believe that it is fair.
As mentioned earlier in this post, enjoying a cold beverage or drink of choice with a meal, matters to many. While only two-thirds of adults would drink at a restaurant, radio listeners would consume alcohol significantly more at these venues (75%) – a great opportunity for restaurants.
Radio listeners enjoy various types of alcoholic beverages and are more likely to have purchased beer, wine, liquor or hard seltzer in the past three months compared to nonlisteners.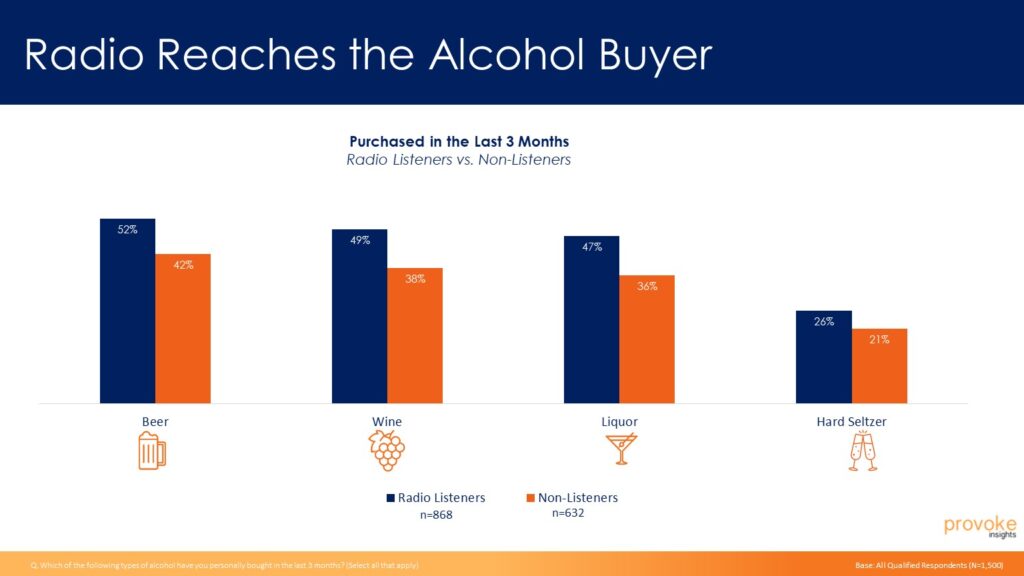 There are great sales opportunities for various alcoholic beverage brands with radio listeners. Compared to nonlisteners, radio listeners are not as loyal to specific brands. Only 48% of radio-listening beer drinkers purchase the same brand and only 46% of radio-listening hard seltzer drinkers are loyal to the same brand – compared to 56% and 51% of nonlisteners, respectively.
While all consumers were excited about the experience of going out, radio listeners like to kick back and relax with their beverage of choice. Eighty-three percent of radio listeners would drink at a party, 82% would drink at a bar and 82% would drink at a special occasion.
For restaurants, alcohol brands, distributers or retailers, the opportunity to grow your business and increase sales with radio is appetizing. It is a chance to use radio to influence brand consideration and ultimately, purchase intent. Why? Because radio connects, informs and influences. It reaches patrons of all types – from fast food diners to wine-drinking consumers.
Provoke Insights' survey results have shown radio drives sales. After hearing a radio ad, 37% of consumers go to a product's website, 28% go to a brick-and-mortar location and 22% visited the brands' social media sites. Clearly, radio should be on the menu of food and drink establishments' media campaigns. Cheers and Bon Appétit!
RAB members can view a Provoke Insights report on alcohol and restaurants here.