Contributor: Jenn Hoff, Digital Sales Director, Marketron
Radio continues to be a channel that engages and influences listeners across all demographics. While much has changed since its inception, radio holds strong as a medium that people trust and truly tune in to, making it a great opportunity for any advertiser.
This connection is apparent in various advertiser categories. Radio is rarely ever niche because the listenership often consists of many demographics. Its reach continues to be unmatched. Broadcast radio reaches 220 million adults 18 and older every week.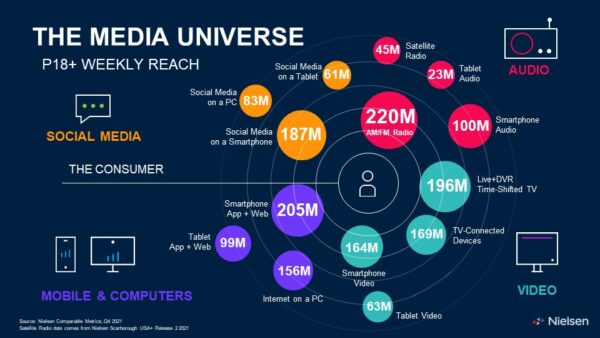 That's a great data point to share with all advertisers, but it often requires being more specific to their vertical and needs. So, here's a breakdown of industry stats and takeaways for a few of those verticals.
Senior Living: Leverage the "Trust Halo" Angle
Senior living is a growing industry driven by an aging population. It's also a space where economic factors don't lessen its demand. The market had a value of $87.4 billion in 2021, an indicator of such demand.
Radio is a good option for these advertisers for several reasons. The most important is the "trust halo" associated with the medium. Data supports that radio listeners trust local stations and personalities, so those stations have their ears. People are also more likely to listen to the ads, as evidenced in the audibility findings.
The hook for these advertisers is this angle. You should also advise that the decision-making process for this vertical has multiple buyers (e.g., seniors, adult children, etc.), so radio can likely capture them all.
Also, be ready to support these advertisers beyond acquiring new clients. They likely need recruitment marketing as well, as it's an industry with severe staff shortages.
Nonprofits Don't Mean Nonbudgets
There's a misconception in sales, in general, that nonprofits don't spend money on advertising. However, you've likely heard or seen ads for this sector more often than you realize. So, if they have the spend, why should they tap radio?
There are several reasons. First, radio is local, as are most nonprofits. It's one of the most relevant spaces for a nonprofit to connect with the community, and listeners tune in to radio because of this local feel.
Second, radio creates emotional connections, as indicated by the "trust halo" and because 40% of consumers consider it uplifting.
Community and emotional experiences are strong reasons for nonprofits to use the airwaves to create awareness, fundraise and attract volunteers. Radio can help nonprofits share their story on radio to reach the most relevant audience.
Higher Education's Dramatic Changes Make it a Match for Radio
Another industry to revisit is higher education. The landscape looks much different now than at the beginning of 2020. Remote learning, changing professions and new outlooks on education forced the market to change. Your opportunity here is with traditional universities, but maybe even more with community colleges and trade schools.
Adult learning is also booming as people reskill themselves to pursue new professions. This type of learning is often online or through community colleges.
For conventional post-secondary students, there are changes here too. Fewer in this group are considering a four-year university.
So, how does radio work for this industry? It has the reach, so ads can speak to the adult learner as well as to young adults and their parents. By targeting some ads to demographics based on programming, your advertiser can get their attention and be a factor in their decision-making.
Audiences may hear the ad, which includes a call to action to visit a specific webpage and continue to move through the buyer's journey. Those 30 to 60 seconds of audio could resonate and be what drives them to consider your advertiser for advancing their education and career.
Field Service Customers: Consistent Branded Radio Spots Keep Them Top of Mind
Field service includes various companies that have workers in the field, from HVAC, to plumbing, to pest control. Many of these are on-demand, emergency needs. When homeowners find a leak, lose power or identify other urgent situations, they need help immediately.
Most of these local consumers start with search, but your advertisers have a way to impact that before it occurs. Consistent branded radio ads stick in listeners' heads, so they'll remember the company name when they encounter a disaster. This could cause them to search for the company, not just "plumbers near me." You'll also want to ensure these companies have high search visibility with supporting digital campaigns. The concept of lift from radio to site activity is proven, with the analysis finding it provided a 9% lift in website activity for home improvement.
Remember: Radio + Digital for Every Advertiser
If you include more than radio in your proposal for each of these categories, radio can amplify the efforts of other media as well. A cross-channel campaign will capture more attention and create more substantial results and radio can enhance those results. Radio ads are proven to lift digital tactics. The message and tone remain the same; advertisers get greater visibility in every channel, which is worth hearing about for any customer.